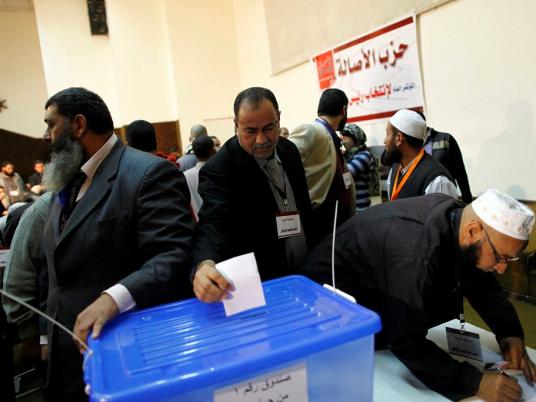 The president's office said opposition groups who boycotted Tuesday's national dialogue have until Thursday to submit recommendations to ensure upcoming parliamentary elections are free and fair.
The news comes a day after main opposition coalition National Salvation Front and several public figures said they will not be participating in the House of Representatives polls, which begin in April.
In an official statement, the office asked interested parties to submit their suggestions to the High Judicial Election Commission.
President Mohamed Morsy made an open call in an early Monday address for liberal and Islamist organizations to come together to discuss the elections and ways of keeping the process transparent and impartial.
The session was widely boycotted by main opposition groups, the April 6 Youth Movement and representatives from Egypt's three Coptic Churches.
Those who did participate made a number of suggestions set to be referred to the commission, including forming a committee to liaise with the commission, allowing international monitors to oversee the process and enforcing penalties for candidates convicted of violating elections law, such as campaign overspending, campaigning in places of worship and ignoring campaign blackout periods.
They also tasked the commssion with setting elections standards and forming an administrative team to assist judges supervising polling stations. The names of the people chosen for these teams should be made public.
The president's office said it plans to form a committee to bridge the ideological gap between opposition forces and members participating in the national dialogues.
Edited translation from Al-Masry Al-Youm