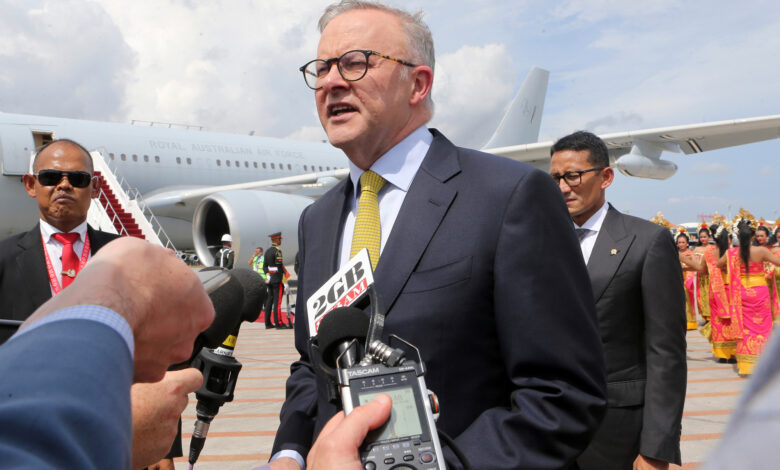 Australian Prime Minister Anthony Albanese has said he'll be meeting Chinese leader Xi Jinping on the sides of the G20 summit, and he looks forward to a "constructive discussion."
Australian-Chinese relations have deteriorated rapidly in recent years, following calls from the Australian government for an investigation into the origins of Covid-19, and growing concerns over Beijing's influence in domestic affairs.
Speaking to journalists after touching down in Bali on Monday, Albanese said Australia will "put forward our own position" during the bilateral meeting with China on Tuesday and was looking forward to having a "constructive discussion with President Xi."
When questioned regarding the message Australia will convey to China about Russia's invasion of Ukraine, Albanese responded: "We have a very clear position, and it's a consistent position, that there is a need for Russia to withdraw from this aggressive action."
He also addressed the topic of China's sanctions on Australian exports, including beef, barley, wine, and rock lobster, stressing that Australia will enter the discussion "with goodwill" with "no preconditions."
"I'm looking forward to having constructive dialogue. I've said since I became the Prime Minister, but before then as well that dialogue is important. We need to talk in order to develop mutual understanding," Albanese added.
Some context: The expected sit-down comes amid signals of an easing of tensions in the relationship, and follows a meeting between Albanese and Chinese Premier Li Keqiang on Saturday during a weekend of meetings linked to the Association of Southeast Asian Nations (ASEAN) summit.
During the meeting, Li said China was ready "to meet Australia halfway," after a "difficult patch" for Chinese Australian relations, according to Chinese official state news agency Xinhua News Agency.