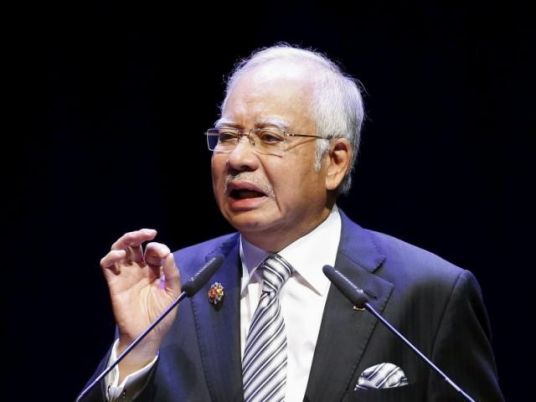 Malaysia's official explanation of the US$681 million that ended up in Prime Minister Najib Razak's personal bank account — it was an entirely proper gift from friends — has triggered derision and fresh questions in a country already well-used to allegations of graft.
On Tuesday, Malaysia's Najib-appointed attorney-general cleared the premier of wrongdoing in a scandal that has gripped the nation, declaring that the money was a "personal donation" from the Saudi royal family.
The announcement capped months of evasion by Najib on the source of the money and apparently laid to rest any threat of prosecution by Malaysian authorities.
But Malaysia's opposition, anti-graft activists and social media users pounced on the perceived implausibility of the unexplained Saudi largesse and alleged a government whitewash.
The Saudis themselves have not helped the situation, with The Wall Street Journal quoting a Saudi official saying the kingdom's government had no knowledge of the donation, adding such a royal gift would be "unprecedented".
Senior opposition figure Lim Kit Siang called the episode a "high-water mark" in Malaysia's well-documented history of government corruption and impunity.
"I cannot think of another case in the nation's history where the attorney-general's decision… has been greeted with more scepticism, outrage and scorn," he said.
Shifting explanations
Najib, 62, has struggled to explain the mysterious payment since it was revealed last July.
He at first hotly denied it, but his government later acknowledged the payment came from a then-unspecified Middle Eastern donor.
The revelation was particularly explosive because Najib already faced allegations that similar amounts were missing from a state-owned company he founded, and reports of lavish spending and possible corruption by his family, all of which are denied.
The government has since detained or threatened whistleblowers, and Najib has purged his leadership of critics, including sacking a previous attorney-general who was investigating the funds.
Malaysian social media roiled with derision on Wednesday.
Najib's Facebook page and other sites filled with derogatory comments as parody images circulated, including one of Najib holding up the middle finger of one hand while holding a wad of cash in the other.
The paucity of detail in the explanation offered by Attorney-General Mohamed Apandi Ali — who owes his job to Najib — fuelled the sense of outrage.
Apandi said the $681 million came with no strings attached and that $620 million of it was later returned to the Saudis.
He did not reveal the money's purpose or say what had happened to the remaining $61 million.
Transparency International's Southeast Asia coordinator Samantha Grant said the government must address unanswered questions including, "Where did it go and why was this personal donation made?"
Former premier Mahathir Mohamad, who has repeatedly demanded Najib's resignation over the affair, poked holes in the story in a blog posting, saying that merely receiving the money "is already wrong even though it may not be criminal".
US and other foreign regulators have launched investigations into the money flows, but experts see little chance Malaysia will cooperate.
In the clear?
On Tuesday the premier welcomed Apandi's declaration as a chance to "move on".
Analysts said lingering suspicion over the case hands an additional weapon to an opposition that has gained ground in recent years.
"I don't think the Malaysian public is going to just move on," said Eugene Tan, a legal professor at Singapore Management University, adding that clearing Najib "raises more questions than answers".
But few are willing to predict the downfall of Najib, who must call new elections by 2018.
Analysts said he has effectively — if messily — weathered the scandal so far, retains the immense power of a six-decade party incumbency, and has outmaneuvered internal critics to tighten control over the ruling United Malays National Organization (UMNO).
"He has really consolidated his power," said Ibrahim Suffian, head of leading polling firm Merdeka Center.
"So I think it will all be up to him unless the economy really turns sour."