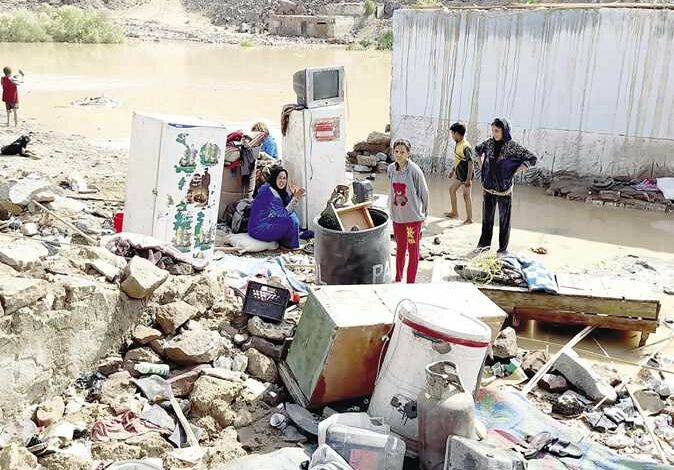 Governor of Aswan Ashraf Attia announced providing 503 furnished housing units for those affected by the floods.
He added that the governorate was now completely stable after the improvement in weather conditions, and stressed during a telephone interview with presenter Azza Mostafa, on the Sada al-Balad channel, that the remains of the torrents have been cleared from streets.
Civil society organizations, associations and state institutions had a major role in overcoming the crisis, Attia said.
According to Attia most of the damaged houses were built at flood water drainage areas and state lands, pointing out that the same crisis may be repeated again.
Attia praised the measures taken by the Ministry of Irrigation during the recent flood crisis in the governorate, and said that apartments have been prepared by the governorate both for those who want to leave dangerous places and live in apartments suitable for living free of charge.
He stressed that the destroyed houses will not be reconstructed, given the dangerous and inappropriate risks  of the area.
Bad weather hit Aswan and the Red Sea governorates over the course of November 12 and 13 as devastating torrents fell in Aswan caused the destruction of homes, flooded streets, and disturbed enough scorpions to sting over 500 people.
Aswan was exposed for the first time in its history to heavy thunderstorms in conjunction with thunder, snowfall and strong winds, which caused flooding of streets, power outages in homes, water stations and utilities, the collapse of many homes and damage to furniture and electrical appliances, and winds uprooted trees and electricity towers.
The city of Aswan also spent a pitch-black night after a power outages due to power supply stations going out of service.
The rains irritated scorpions out of their burrows filled with torrential water in the sandy areas surrounding several settlements by Aswan.
The scorpions stung 503 citizens who transferred to hospitals to receive the necessary medical treatment.