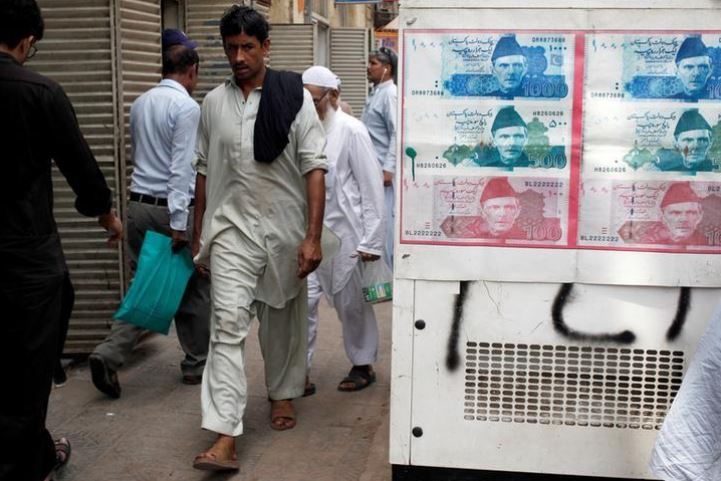 ISLAMABAD (Reuters) – The Pakistani finance minister's bullish comments declaring the end of an economic crisis have bolstered confidence ahead of crunch talks with the International Monetary Fund on Wednesday, but the country is still likely to need a bailout.
Finance Minister Asad Umar said on Tuesday that "Pakistan's immediate balance of payment crisis is over" without mentioning the talks with the IMF in Islamabad.
Umar's comments came after Prime Minister Imran Khan visited main allies Saudi Arabia and China last month.
Khan secured $6 billion in assistance from Riyadh while Beijing promised help cover a projected $12 billion shortfall in foreign exchange to service Pakistan's debt.
Pakistan's central bank chief is due to travel to China on Friday to discuss details of what Umar described as a pledge of "immediate money".
Analysts say the cash will give the economy breathing space and stabilize the rupee, which has fallen 25 percent against the U.S. dollar since December, but it will not solve Pakistan's balance of payments crisis and avert a second IMF bailout request since 2013, and its 13th IMF rescue since late the 1980s.
"They are going to the IMF because they have to get credit rating approval from the financial markets and that would not happen on the Saudi or Chinese money," Asad Sayeed, an economist at the Collective for Social Science Research, told Reuters.
Pakistani officials are concerned tough IMF conditions would hit growth in the short term, as the IMF is likely to push for reduced spending, further currency devaluations and an increase in interest rates, preventing Khan from fulfilling populist campaign pledges.
Khan's government has pledged to create an "Islamic welfare state" and help build 5 million homes for the poor in a nation where the illiteracy rate is more than 40 percent.
Confidence boost
But the Saudi and Chinese help could put the government in a stronger position to negotiate better terms with the IMF, Saad Hashemy, chief economist for local brokerage Topline Securities, told Reuters.
"The statement by the finance minister is a big confidence booster for the economy," Hashemy said.
"What it falls short of is the exact details of the funding from the Chinese side," he added, speculating China may opt to defer payments on existing loans and buy more Pakistani imports.
Chinese foreign ministry spokeswoman Hua Chunying told a daily news briefing Beijing was "willing, in accordance with Pakistan's needs and with agreement by both sides, to provide what help we can for Pakistan's economic and social development".
Pakistani shares soared more than 3 percent on the news of the Saudi loans, and were up another 1.5 percent on Wednesday following Umar's comments.
Umar has said the country needs $12 billion for immediate economic relief, but Hashemy said a total figure of up to $16 billion was needed to build up reserves, and negotiating a package with the IMF was the "smart thing".
Pakistan's current account deficit widened 43 percent to $18 billion in the fiscal year that ended in June, while the fiscal deficit has ballooned to 6.6 percent of gross domestic product, problems analysts say will not go away following the latest injection of economic assistance.
"There are very deep-seated structural problems," Sayeed warned.
"If you just sit back … and carry on as you always do, that's not good because you're going to land up precisely in a similar situation in a few years."
Additional reporting by Ben Blanchard in Beijing; Writing by Saad Sayeed; Editing by Kay Johnson, Robert Birsel.