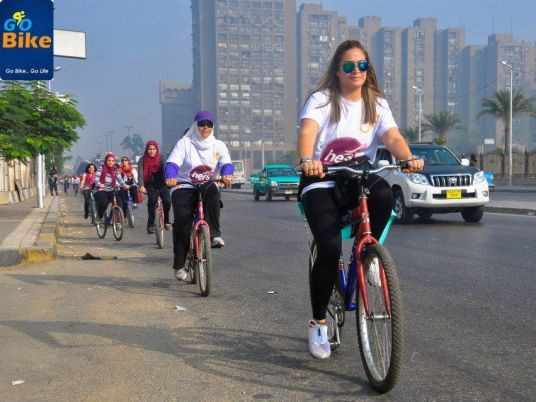 Paris is planning to invest €150 million to double the number of cycle paths across the city, a move it hopes will transform it into the "cycling capital of the world" and help solve the French capital's pollution problem.
Unveiling the proposals on Thursday, Paris's City Hall said the investment could see the number of journeys made by bike in the capital triple from five percent of all journeys currently to 15 percent by 2020.
The centrepiece of the scheme is a new cycle "express way": more than 80km of two-way cycle paths following some of Paris's main avenues and spanning the city from north to south and from east to west.
Other cycle paths outside this main "axis" will be added and expanded, doubling the total length of cycle paths over the next five years to 1,400km.
The ambitious proposals, set to go before a vote at the next city council meeting in April, could also help make the French capital a greener, less polluted city, according to Christophe Najdovski, Paris's deputy mayor in charge of transport.
"The battle against greenhouse gas emissions and air pollutants is also at stake with this project," she told French daily Le Figaro.
Though figures show air pollution in the French capital has declined steadily in recent years, some two to four million people in the Paris region each year are exposed to air quality that fails to meet European standards, according to Airparif, the body that monitors pollution levels in Paris.
Last month – and for the second time in little more than a year – city officials were forced to introduce a number of emergency measures to curb a particularly dangerous spike in pollution. The drastic steps included banning half of all traffic from the roads and making public transport free.
Speed limits to make cycling safer
Making the roads safer for cyclists is also a major part of the new scheme, which city officials hope will encourage more people to swap their cars for bikes.
Safety measures will include introducing 30km/h for smaller roads with cycle paths, rising to 50 km/h on major arteries.
"We believe that people would be willing to take the step, but don't do it because of a sense of insecurity," said Najdovski.
Cycle paths on the new express way will be separated from traffic, said Najdovski. "We also want to address breaks in the cycle network, such as at the portes (city gates) on the outskirts of Paris," she added.
The unveiling of the scheme comes at a time when cycling in Paris is becoming increasingly popular.
The number of journeys made by bike in the Ile-de-France region, which includes Paris, doubled between 2001 and 2010 to 650,000 a day, while the capital's Vélib cycle hire scheme reached a record 283,000 subscribers in 2014.
City officials are now also looking at introducing a new electric bike hire programme to allow users to make longer journeys. Last year also saw it trial a scheme to encourage youngsters to learn to cycle by offering families the chance to hire bikes for children aged two to eight years old