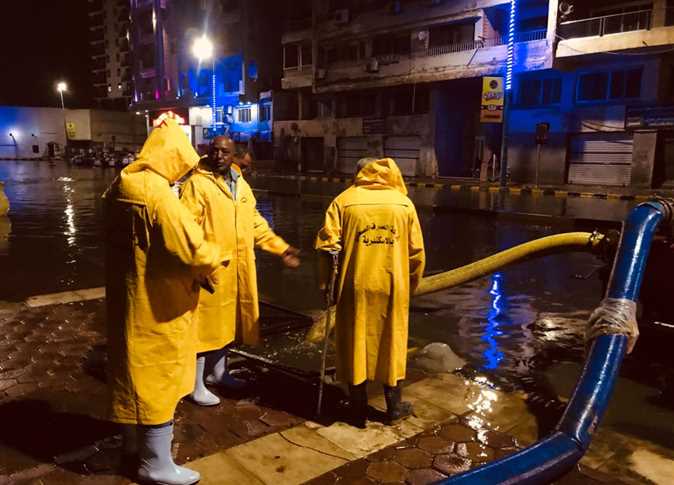 Unstable weather and heavy rains have thrashed Alexandria since the early hours of Saturday morning, with local authorities suspending study in all schools and universities on Saturday.
Alexandria Governor Mohamed al-Sharif said that these heavy rains have strained the capacity of the city's dilapidated sewage network and its pumping stations.
He called on all sewage network officials, neighborhood heads and all concerned parties to continue sucking out water and stationing vacuum trucks in places exposed to heavy flooding.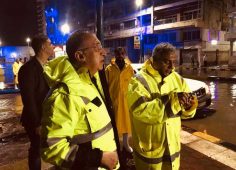 Alexandria governorate officials called on citizens to exercise caution, follow safety instructions, and limit movement in cars until Monday to allow vacuum trucks to move easily.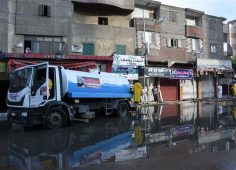 It appealed to citizens to avoid driving at speeds exceeding 60 km and to maintain a greater safety distance than usual.
Warnings were also issued not to stand under dilapidated balconies and avoid all open areas, metal objects, fences and railways during lightning strikes.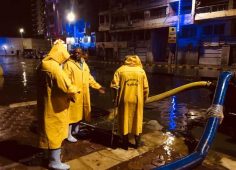 Eman Shaker, the Egyptian Meteorological Authority's (EMA) Director of Remote Sensing, warned on Friday of heavy rains on the northern coasts for Saturday and Sunday.
Shaker told Al-Masry Al-Youm that there are moderate to heavy rains are expected for the northern coasts, which include Salloum, Alexandria, Rashid, Sidi Abdel Rahman, Dabaa, Matrouh, Fayoum and Sidi Barani.
Rains will be intermittent but continuous throughout the two days, she said, potentially causing water to pool and flood.
Edited translation from Al-Masry Al-Youm