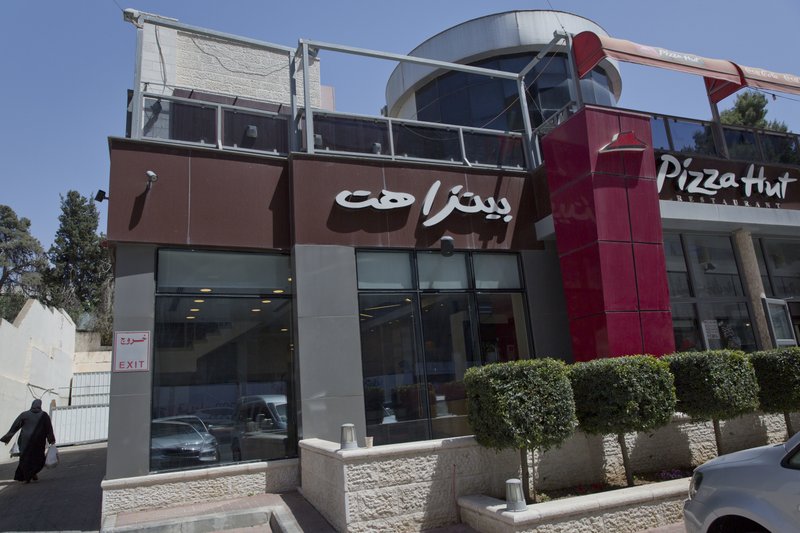 Pizza Hut has apologized and fired an advertising firm responsible for an Israeli Facebook ad that mocked the leader of a mass Palestinian hunger strike.
The ad on Pizza Hut Israel's Facebook page was deleted, and the parent company said in a statement that the post was "completely inappropriate."
The ad attempted to make light of Marwan Barghouti, the imprisoned leader of the 24-day-old hunger strike.
Barghouti, 58, is serving five life terms after an Israeli court convicted him of directing attacks during a 2000 Palestinian uprising that killed five people. Barghouti, in prison since 2002, never mounted a defense, saying the court had no jurisdiction over him.
Barghouti said the demands better conditions for Palestinian prisoners in Israeli jails. Israeli alleges Barghouti, widely seen as a potential successor to Palestinian President Mahmoud Abbas, is using the strike to raise his profile.
On Sunday, Israel's Prison Service released a video claiming to show Barghouti secretly snacking that Palestinians allege was fabricated. Pizza Hut then published a Facebook post with a pizza box superimposed on Barghouti's prison cell asking if he would rather have broken his hunger strike with a pizza.
In a statement released by Pizza Hut International's Middle East Twitter account on Tuesday, the company said it apologized for any offense and said the ad "does not reflect the values of our brand." A spokesman for Pizza Hut's parent company in the US, Yum! Brands Inc., did not immediately respond to a request for comment.
Erez Rubenstein, a partner at the Israeli advertising company behind the ad, confirmed his firm had been dismissed and said the Facebook post was regrettable in hindsight. "We didn't mean to offend anybody," he said.
The fate of prisoners is an emotional issue for Palestinians. During decades of conflict, hundreds of thousands of Palestinians have spent time in Israeli prisons for offenses ranging from stone throwing to participating in deadly attacks. Palestinians say Israel's military court system is rigged against them.
Pizza Hut International's statement came in response to a Twitter campaign to boycott the company, which operates in Israel, the West Bank and around the Arab world. The Palestinian Prisoners' Media Committee called off its boycott of Pizza Hut after accepting the apology.
Meanwhile, Barghouti's lawyer, Khader Shkirat, said the Israel Prison Service abruptly canceled a planned prison meeting with his client that had been scheduled for Thursday. Shkirat was later informed he would be able to see Barghouti on Sunday.
The attorney said he was given no explanation. He said he is increasingly concerned about Barghouti, who has been held in isolation since the start of the hunger strike on April 17.
"We want to know exactly what his health situation is," Shkirat said. "The fact that the Israelis are not allowing anybody to visit him makes us more worried."
Assaf Librati, a spokesman for the prison service, confirmed the visit had been canceled, but said he did not know the reason.
Barghouti's family and supporters allege Israel is trying to demoralize the strikers by keeping him isolated and by recently releasing the video purportedly showing him eating in his cell.
Sari Bashi, a regional director for Human Rights Watch, said the release of the video "raises questions about the violation of the right to privacy."
She said it's also problematic to "make an allegation against somebody who is in your custody and then hold him incommunicado so he cannot respond to that allegation."
The video was released Sunday and led the evening news on Israeli TV channels.
Librati said "we thought it's important for the public to see the behavior of the hunger strike leader," but he did not address the privacy issue. "We did not expect the video to break the hunger strike or stop it," he said.
The level of prisoner participation in the strike has held largely steady since the release of the video. Librati said 870 prisoners were still participating in the strike Wednesday, compared to 890 late last week.
Israel holds about 6,500 Palestinians for offenses carried out in the context of the Israeli-Palestinian conflict, from stone-throwing to membership in groups outlawed by Israel and attacks that wounded or killed Israelis. Several hundred are being held without trial in so-called administrative detention.
Israel has refused to negotiate with the prisoners, who seek better conditions, including the key demand of more family visits.
Also Wednesday, Barghouti's wife, Fadwa, sent an open letter to Pope Francis, urging him to speak out in support of the prisoners.
"We are an entire nation held captive and the Palestinian prisoners are the most dramatic reflection of this long and horrific captivity," she wrote. "How can the world remain silent in the face of such an injustice?"