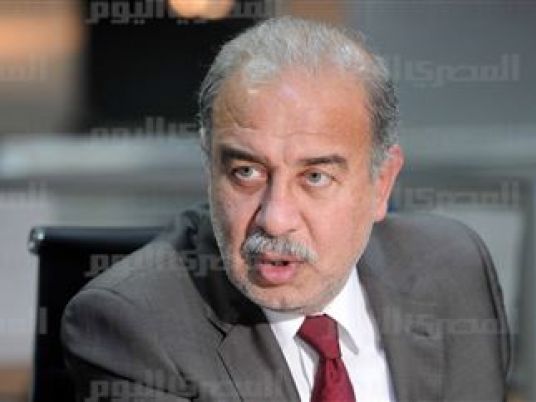 Caretaker Prime Minister Sherif Ismail has denied accusations that he is connected to a millionaire who is central to a corruption scandal that forced the resignation and arrest of Egypt's former agriculture minister.
Ismail, a former petroleum minister, was tasked by President Abdel Fattah al-Sisi to form a new government on Saturday, after his predecessor, Ibrahim Mehleb, was asked to tender his resignation. Mehleb's departure came a few days after the disclosure of a major corruption scheme that led to the arrest of Agriculture Minister Salah Helal.
Ismail has denied personal links to Mohamed Fouda, a millionaire and a former adviser to the Culture Ministry. Fouda is also a sometimes columnist who has been accused of brokering the bribes allegedly made by Agriculture Ministry officials.
Social media and news outlets have circulated photos of Ismail with Fouda at an apparent inauguration of a natural gas station.
Ismail told Al-Masry Al-Youm that the photo was captured while he was inaugurating a natural gas unit in Zefta, Gharbiya back in 2014. He said he had neither prepared for the ceremony nor invited Fouda who, the prime minister said, introduced himself as a journalist.
But the photo has had a strong impact on the public who, along with some more prominent voices, are using it as an argument to support the belief that Ismail is not the best choice for prime minister.
"Before taking the oath before the president, the Prime Minister-designate, Sherif Ismail, needs to transparently brief the president and the public on his relation with Fouda, the chief suspect in the Agriculture Ministry bribes," wrote Hamdy Rizk, a columnist at Al-Masry Al-Youm, on Sunday.
"Every minister appearing in photos with Fouda should have his name underlined, not to mention the prime minister," Rizk added.
Rizk suggested that Fouda was championing the inauguration of the gas station in Zefta as a form of propaganda for his potential parliamentary nomination. The columnist wondered whether Ismail suspected that when Fouda attended the event.
Mortada Mansour, an influential lawyer and chairman of the Zamalek Sports Club, also voiced discontent with the selection of Ismail, due to his alleged ties with Fouda.
"President Sisi has the right to make changes and to appoint anyone, but not Sherif Ismail," Mansour said in a phone call with satellite TV channel LTC Saturday. Mansour highlighted what he claimed were several occasions where Fouda was with the caretaker prime minister.
Mansour urged President Sisi to revise his choice of Ismail.