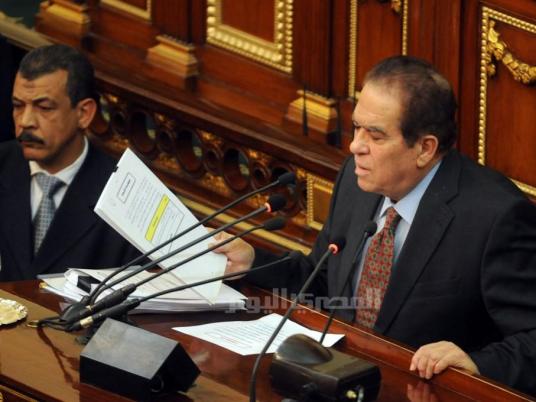 International donors have made any financial support they provide to Egypt contingent on Cairo first reaching agreement on a financing package with the International Monetary Fund (IMF), the country's prime minister said on Wednesday.
The cabinet on Wednesday also approved an economic reform program that it will open up for public debate before submitting it to an IMF technical team, the planning minister said.
Analysts say Egypt is in desperate need of international support to avert a financial crisis caused by a year of economic and political turmoil. The crisis has worsened unemployment and drained foreign reserves.
Egypt last month began negotiating a US$3.2 billion IMF package to plug widening budget and balance of payments deficits. Egypt says it wants to seal an accord within weeks.
Gulf countries, the United States and the European Union said last spring they were prepared to provide billions of dollars in assistance to Egypt, as did a number of multilateral lending agencies.
But in late June, Egypt rejected a $3 billion IMF package it had negotiated only weeks earlier. Little of the promised aid has actually arrived since then.
"Arab and Western countries have tied their assistance to Egypt to an agreement with the IMF," Prime Minister Kamal al-Ganzouri told a news conference.
The IMF has said Egypt would have to line up substantial commitments from international donors before it would agree to any financial package. Economists estimate that Egypt needs about $10-12 billion in external funding over the next year and a half.
The government over the last few months has been drawing up an economic program that will set benchmarks to be used in the 18-month financial package it is working on with the IMF.
"The cabinet agreed today on an economic reform program to resume talks with the IMF to secure a loan of $3.2 billion dollars," Planning and International Cooperation Minister Fayza Abouelnaga told reporters.
"It was decided that this program would be presented for a public debate and that the IMF would be notified when the program gets finalized. Then the technical delegation would be invited to resume the second stage of talks," she said.
The IMF has said any agreement would also be contingent on its having broad political support within Egypt, including the support of the country's main political parties.
Abouelnaga said a World Bank delegation would arrive on Sunday to discuss lending Egypt $1 billion, and another team from the African Development Bank was also coming soon to discuss a $500 million loan.
The country's foreign reserves fell by $1.77 billion in January to $16.4 billion after having dipped by around $2 billion in each of October, November and December.
Reserves have plunged by more than half since the uprising that ousted President Hosni Mubarak last February. They now represent only about three-and-a-half months of import cover, one economist said.