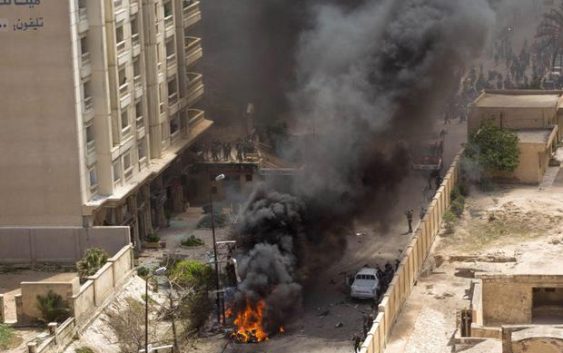 Judicial sources said on Sunday that Egyptian police has identified two persons involved in the car bomb attack that targeted the motorcade of Alexandria's Security Directorate chief Mostafa al-Nemr on al-Moaskar al-Romani Street in the city's central Roushdy area, which left two policemen dead and another five injured.
According to the sources, the police requested permission from the Public Prosecution to arrest the two suspects after footage from security cameras placed at nearby shops and a hotel showed that one person had planted an explosive device just ten minutes before the motorcade passed, while the other person was seen monitoring the motorcade's movements.
They added that police also identified the location of the apartment in which the two suspects manufactured the explosive device.
According to a security source, the weight of the device was eight kilos.
Relatedly, the public prosecution received testimonies from two injured policemen who said that the route of high-level motorcades are usually changed prior to them taking off in order to ensure the highest level of security. However, the route of the Security Director's motorcade had not been changed since 20 days prior to the incident.
Egypt has in the past few years witnessed an up-tick in urban armed militancy after a low-intensive war between Islamic State-affiliated militants and the army in the troubled Sinai peninsula has slowly been extended into the country's cities, with civilian as well as non-civilian targets being hit.
Edited translation from Al-Masry Al-Youm