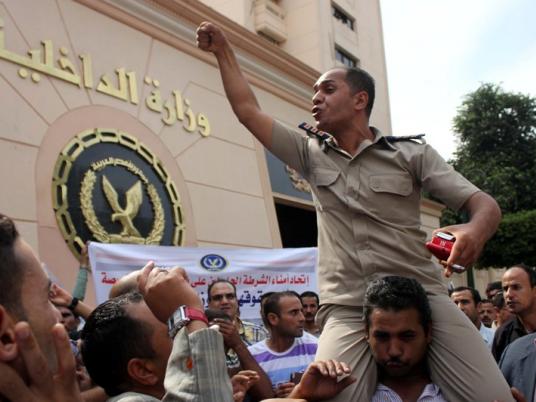 Dozens of low-ranking police officers staged strikes and protested Wednesday in some governorates in solidarity with Abdel Hamid Darwish, secretary of the police personnel general club in Cairo, who had been referred to interrogation for instigating protests.
Darwish was arrested and detained pending interrogation Tuesday at Cairo International Airport for allegedly leading protests condemning the transfer of a police officer who had been accused by a tourist of harassing her. Police forces fired tear gas to disperse the protesting officers at the airport.
Sabry Suleiman, who heads a coalition of warrant officers in the province, said several police departments were closed such as Delengat, Edko, Damanhour and Kafr al-Dawwar in solidarity with the arrested officer. He demanded the resignation of the airport's security chief.
Departments in Alexandria are also on partial strike, with officers voicing the same demands.
In Sohag, Upper Egypt, officers closed the province's security directorate with chains Wednesday and denied entry to employees in solidarity with Darwish.
Nabil Shehata, who heads Sohag's policemen club, said all police departments are taking part in an open strike until a further notice from the club in Cairo, adding that Wednesday would be "the day of policemen dignity and anger".
In Daqahlia, an open-ended strike was also launched, with officers declaring in a statement that they back the general club in any escalation over the incident.
Policemen in the Red Sea also responded to the call for strike, abstaining from taking their positions around banks, churches and courts, and declaring protests outside police stations.
Edited translation from Al-Masry Al-Youm