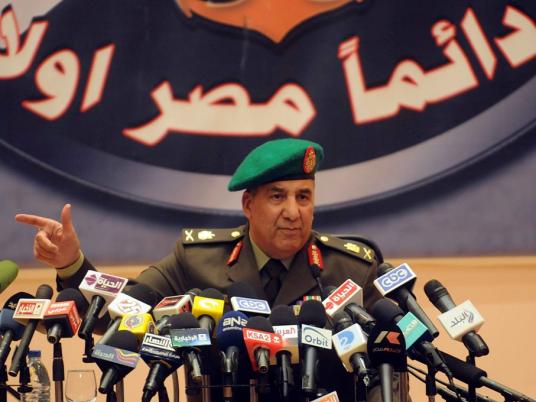 A number of public figures and political parties have denied they participated in meetings with the Supreme Council of the Armed Forces (SCAF) and Prime Minister Kamal al-Ganzouri on Sunday to help draft or come to an agreement on the supplement to the Constitutional Declaration.
The parties and figures accused the Muslim Brotherhood of issuing a false statement with the intent to discredit them because they reject a religious state and do not support the Brotherhood's presidential candidate Mohamed Morsy.
A number of social networking sites published a statement saying a meeting on 17 June involving SCAF generals and Ganzouri ended with agreement on four points, the most important of which was the issuance of the supplement to the Constitutional Declaration.
The statement named those supposedly responsible for drafting the supplement: Major General Mamdouh Shahin; former head of the military's Advisory Council Mohamed Nour Farahat; Lawyers Syndicate President Sameh Ashour; former judge Mohamed al-Dakroury; former deputy prime ministers Yehia al-Gamal and Ali al-Selmy; and constitutional law professors Mohamed al-Zahaby and Shawky al-Sayed. The chairmen of seven parties, namely, Wafd, Egyptian Social Democratic, Free Egyptians, Tagammu, Democratic Front, Ghad and Modern Egypt, as well as representatives from the Egypt National Party, Arab Democratic Nasserist Party and the Arab Justice and Equality Party also were said to have participated.
Selmy described the online statement as bogus and said he did not attend the meeting. In a statement to Al-Masry Al-Youm, he denied any relation to the SCAF-issued supplement to the Constitutional Declaration, which broadened the military's powers and restricted those of the next president after a court order dissolved Parliament last week. He went on to say that the party chairmen's signatures found on the document were taken from a previous meeting between Armed Forces Chief of Staff Sami Anan and the party heads in October.
Ashour, who is also head of the Advisory Council, issued a statement yesterday titled "No one will scare us," in which he denied any involvement in drafting the supplement. He also accused Islamists of preparing the document, which he described as false, to defame him.
Ashour said he would not respond to these actions and would take no legal action against them.
Ahmed Khairy, a member of the Political Bureau of the Free Egyptians Party, denied the involvement of party heads in any meetings with the SCAF on Sunday concerned with the supplement. He said the party adheres to its declared position of rejecting the supplement and the restriction of the new president's authorities.
Several other parties also issued statements denying that they participated in or were invited to attend the meeting.
Edited translation from Al-Masry Al-Youm