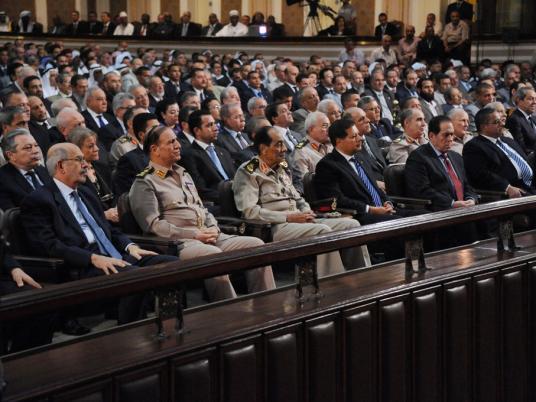 President Mohamed Morsy met with the Supreme Council of the Armed Forces for an hour and a half on Thursday evening, as the army commanders expressed their dismay that political forces were attempting to distort the image of the Armed Forces, said informed sources.
The president reportedly denounced such attempts, and said they were an attempt to drive a wedge between the army and the presidency.
The sources added that the president agreed to SCAF's recommendation to grant promotions to Air Defense commander Major General Abdel Moneim al-Tarras, Air Forces commander Major General Younis al-Masry and Navy commander Major General Osama al-Guindy. They would each receive the rank of field marshal.
The meeting comes a fact-finding committee report that was submitted to the president was leaked to the media. The report implicated the army in torture operations and the murder of civilians during the 25 January 2011 revolution, although the army had declared neutrality at the time.
According to Sky News Arabia, a senior military official had denounced London-based newspaper The Guardian for publishing on Wednesday a report on the role of the military in the torture and kidnapping of activists during the revolution.
The official wondered why the newspaper published only part of the fact-finding committee report, calling it a deliberate and systematic campaign against the Armed Forces that was intended ignite battles in the Egyptian street. He claimed that the Armed Forces had left politics and returned to its barracks.
As repeated demonstrations across the nation have called for the Armed Forces to force Morsy to step down and resume governing the nation, the army has periodically denied any intention to step back into the political arena.
Edited translation from Al-Masry Al-Youm