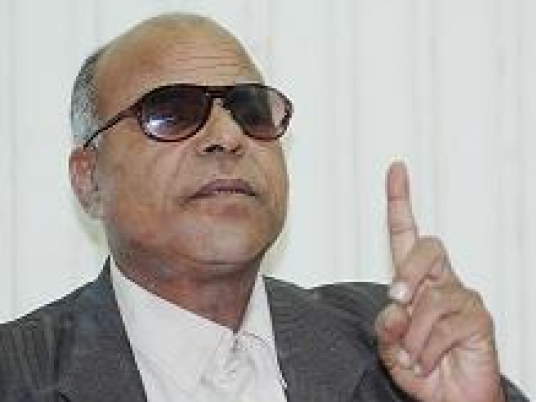 A former parliamentarian has accused the government of squandering pensioners' funds, demanding a judicial investigation into the loss of billions of pounds under former president Hosni Mubarak.
Al-Badry Farhgaly, who heads an association of Egyptian pension recipients, told Al-Masry Al-Youm in a recent interview that a meeting has been scheduled this week with Justice Minister Ahmed al-Zend during which they will discuss launching an independent investigation into corruption related to the management of pensioners' money.
Q: Why have you asked the justice minister to form an independent judicial panel to investigate the whereabouts of insurance funds?
A: We have made the request due to the current state of indignance among pensioners. For years, we have been engaged in judicial measures and prosecution investigations. Ministerial decisions have ruined everything though, with the government protecting and immunizing whoever infringes on insurance money. I am citing the Central Auditing Organization's (CAO) findings here. These days, any of those people who reach the legal retirement age is having his service extended, and that's why we have lost confidence in the government.
Q: And what interest does the government have in protecting those people you are referring to?
A: Article 17 of the Constitution stresses that insurance money belongs to the recipients and their interest revenues are directed to pensioners. There is also Article 27 which stipulates the setting of a minimum pension payment. However, Social Solidarity Minister Ghada Waly seems to have given the constitution an open-ended vacation and instead of seeking social justice, she has suspended the application of constitutional articles only to stoke indignance among pensioners.
Q: What is the current minimum for pensions?
A: There are five million pensioners who get a monthly LE500 and more than seven million who receive less that LE1,000. This is despite the fact that LE585 billion of insurance money is being spent without the least bit of scrutiny.
The squandering of our funds began under former finance minister Youssef Botrous Ghali and his deputy. Security reports and the CAO have confirmed that a clique of senior officials at the solidarity and finance ministries had acquired LE1 billion per year in allowances. Yet despite all of this, the social solidarity minister still turns a deaf ear.
Q: And where did the insurance funds go?
A: There are LE162 billion yielding no interest profits at all, in addition to LE80 billion in corporate investments. Senior insurance officials have been acquiring revenues for themselves under the minister's protection. Former social solidarity minister Ahmed al-Boraie and the incumbent head of the government's insurance fund, Omar Hassan – who has also had his service extended – have sold stocks owned by the government's company to a private one for LE80 million. A week later, those stocks were resold for LE300 million and it was the CAO that made the finding.
Q: How will you manage to reach out to officials?
A: A meeting is scheduled within a few days with the justice minister to discuss the independent investigation panel. We are also preparing a protest for which we notified the Interior Minister, in line with the protest law. And we are still awaiting permission to determine its location. I am planning to gather one million out of nine million pensioners. We already have 80 provincial syndicates and are always in contact with pensioners at all governorates.
Q: Why haven't you brought up the issue at the National Organization for Social Insurance, especially considereing you are a board member?
A: I did that many times to no avail. The minister had sent me LE7,000 as an allowance for attending the organization's session, which I rejected because that money should belong to the pensioners' widows and orphans.
Edited translation from Al-Masry Al-Youm