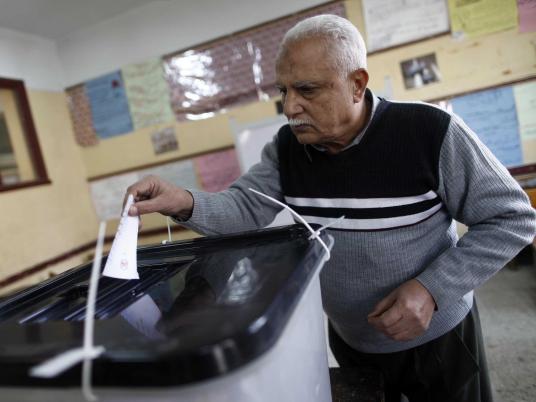 Political figures had different reactions to the constitutional referendum after the end of the first phase on Saturday night, as preliminary results indicated more votes in favor of the draft than against.
The Freedom and Justice Party reported that semi-official results, based on 99.2 percent of polling stations, show 56.5 percent of voters approving the constitution and 43.5 percent rejecting it.
Prime Minister Hesham Qandil posted on Facebook Sunday to thank everyone, especially judges, the Armed Forces and police, that contributed to ensuring that the first phase of the referendum was civilized.
Qandil added that voter turnout reflects the Egyptian people's spirit of responsibility.
Initial results estimate voter turnout at around 30 percent of eligible voters.
Constitution Party head Mohamed ElBaradei, who also leads the opposition National Salvation Front, tweeted on Sunday, "The nation gets more divided and the state pillars are falling."
Mohamed Adel, a leading member of the April 6 Youth Movement, said the percentage of voters who rejected the constitution, 44 percent, is high, and stressed that there is a great split in the Egyptian street over the draft.
This percentage shattered the dreams of Islamists and Muslim Brotherhood, according to Adel, after nearly half of the Egyptian people rejected the draft constitution.
The movement released a statement saying that it would continue to call on citizens to vote "no."
"Members of the movement have begun to intensify their activities and they are confident in their ability to reject the draft constitution," it said.
"It is unreasonable in a respectable country that a constitution could be passed with almost a 44 percent rate of rejection," Adel added. "It is a very high percentage, even when only 31 percent of those eligible participated, and despite violations by the Islamist current and attempts to convince voters to choose 'yes.'"
Freedom and Justice Party Vice President Essam al-Erian wrote on Facebook, "Members of the FJP and the Muslim Brotherhood, and all forces that voted against blocking the revolution, stood with progress, ongoing development, stability and building new Egyptian constitutional institutions." He called on citizens to rest and reflect on the first phase, considering the outcome.
"Egypt speaks for itself and no one has the right to speak on its behalf," Erian concluded.