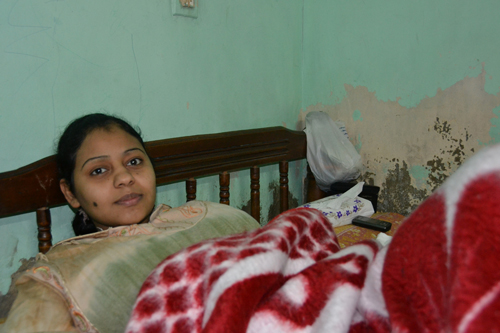 One day, Ne'ma Barbary, 27, woke up to learn that she could no longer control herself when she went to the bathroom. For eight desperate months, while doctors could neither diagnose nor treat her condition, she continued uncontrollably urinating without knowing why.
When her condition was finally diagnosed, Barbary immediately had surgery for a vesicovaginal fistula, a pathological condition that is usually the result of poor medical care and malpractice in developing countries.
A fistula, or hole, is an abnormal hollow opening created between the vagina and the urethra or bladder. A fistula causes urine to involuntarily leak through the vaginal opening instead of taking its path through the bladder and the urethra, which are equipped to control urine.
Fistula complications are widespread in Africa, affecting an estimated 3 million women, with up to 100,000 new cases diagnosed each year. Though fistula cases are relatively rare in Egypt, if affected, patients come up against huge obstacles, such as lack of treatment or proper diagnosis, as in Barbary's case.
When she gave birth to her second child in May, Barbary — while lying half-conscious on the delivery bed under spinal anesthesia — recalls the nurse noticing excessive bleeding coming from the her womb. As she continued to bleed internally for a whole day, Barbary was convinced the doctor had botched up the delivery.
When the hospital she was admitted to for labor called her back the next day for a hysterectomy, Barbary says she was operated on by a urological team, in addition to a gynecological one, that was attempting — though unsuccessfully — to repair her gashed bladder. After that, she became incontinent.
Barbary remembers crying every day and being frightened, not understanding what she was experiencing. Although she was first diagnosed three months after giving birth in an insurance hospital, she was dumbfounded to learn that she could not cover the cost of the operation because she did not carry medical insurance.
It was only through her sister's work colleague that Barbary was connected to a doctor who finally performed the operation pro bono.
"I was very scared. This unknown condition brought me psychological problems … I not only blame the negligence of the doctors, but their ignorance. I simply needed to understand, to be told what was happening to me," Barbary says.
The deferred court case she filed against the hospital and untrained doctors that gave her the fistula cites malpractice as one of the main charges.
Tarek Osman, a urology professor at Ain Shams University, says bad economic conditions contribute to the problem.
"Surgeons are untrained and unsupervised and will go at any cost to practice, especially in villages … In essence, the triangle of lack of training, bad economic conditions and absence of supervision make up the factors behind the development or formation of fistula in Egypt," he says.
While malpractice is at the heart of fistula complications, the lack of good treatment options compounds the problem.
A 42-year-old fistula patient from Beheira, who chose to remain anonymous, was quickly diagnosed soon after she came out of labor. She was told that her gynecologist had sewn her uterus to her bladder and colon.
Because her case had severe complications, the first attempt at surgery did not succeed, and she was asked to wait until a more specialized doctor operated on her as part of a fistula medical mission that visited Luxor last year.
Though still leaking urine and awaiting another surgery for her bladder, the patient says her life is in better shape than before.
"Imagine how my world flipped upside down. I was a [physical education] teacher. I was very active and social. I am also a mother and wife. Suddenly, I quit my job and couldn't care for my kids … Like my child, I had to wear diapers," she says.
Ahmed Saafan, consultant of female urology at Ain Shams University and a leading specialist in vesicovaginal fistula in Africa, explains that because the condition is not common in Egypt, fistula patients have trouble reaching specialized treatment facilities, which are only found at training hospitals.
"There is a problem with announcing places of fistula treatment, as well as the rarity of specialty in this area. So until a patient reaches us, she would've spent several months searching where, and from whom, to get treatment," he says.
Though Saafan has successfully treated or collaborated in the treatment of as many as 5,000 to 6,000 fistula cases in the past eight years in Africa, he says that places for treatment should be better advertised.
Taking an active role toward campaigning about fistulas and their prevention not only in Egypt, but in several African countries, Saafan explains why the condition is less common in Egypt than other parts of Africa by naming two types of fistula.
Obstetric fistula, which affects women mostly in East and West Africa, is caused by giving birth at a young age. With an underdeveloped pelvis, these women cannot give birth naturally and spend days at a time in obstructed labor, where the baby is crammed in the narrow birth canal. While the baby dies in most cases, the prolonged thrusting of the baby's head against the pelvic wall during labor causes the fistula.
In Egypt, however, fistulas today are usually caused by surgical and gynecological errors, or in other words, when the doctor makes a mistake during surgery.
Osman, who conducts fistula campaigns in Egyptian villages, says these remote areas, similar to many parts of Africa, lack access to proper healthcare and medical services. Nonetheless, the social ramifications are wider in other African countries, as opposed to Egypt.
Women in some parts of Africa may be stigmatized in their own communities, deemed cursed and sent into exile, Osman says. They may form what international organizations have called "fistula villages," where they subsist on what little they can provide for themselves. Others commit suicide.
Moreover, where the woman has been the main breadwinner, the fistula causes the family to lose its main provider.
While Saafan says Egypt is shifting toward a type of surgical fistula that is characteristic of developing countries, it did not differ much from other parts of Africa back in the 1940s and 1950s. In fact, popular medical belief suggests that the very first fistula cases were recorded on papyrus sheets.
In one report, John Spurlock writes that a fistula was discovered upon examination of the mummified body of Henhenit, a lady in the court of Mentuhotep of the 11th dynasty, in 1923, yet was studied by the Persian polymath Ibn Sina, also known as Avicenna, as far back as AD 950. Ibn Sina correlated pregnancy at a young age with fistula.
In today's world, however, fistulas can be easily prevented by access to proper healthcare and trained doctors.
A recent operation successfully treated Barbary's fistula.
Hooked to a catheter in her one-bedroom house in Darb Azzouz, Shubra, she is now recovering from the life-changing operation. She prays this will put an end to her days of leaking urine. She is also awaiting leads on her court case, which she says she thinks her doctors are trying to cover up.
This piece was originally published in Egypt Independent's weekly print edition.