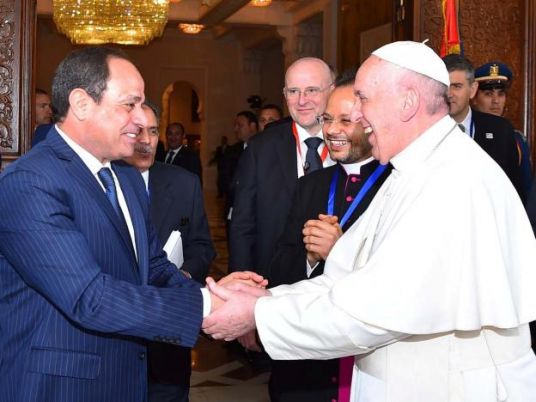 Pope Francis expressed his concern over the case of doctoral student Giulio Regeni who was murdered in Egypt last year.
He held his traditional inflight press conference with journalists onboard the Papal plane during his return flight from Egypt on Saturday evening.
The Catholic News Agency's (CNA) official presser cited the Pope as saying: "I am concerned, from the Holy See I have moved on that topic because the parents also asked me to. The Holy See has moved. I will not say how or where, but we have moved."
Pope Francis concluded a two-day visit to Egypt on Saturday during which he held meetings with top state officials, as well as Egyptian president Abdel Fattah al-Sisi.
Francis avoided responding directly to a question whether he discussed Regeni's case in his private meeting with Sisi, saying: "when I am with a head of state in private dialogue, that remains private."
Regeni, a 28-year-old Cambridge University PhD candidate, disappeared on January 25, 2016 in central Cairo as police came out in full force in anticipation of protests. His body, bearing signs of torture, was later found along the side of the Cairo-Alexandria Desert Road.
Regeni had been researching street vendor trade unions, a sensitive political issue in Egypt, where successive governments have feared strikes and unrest. Egypt has forcefully denied that its police were involved in his abduction.
Police officials at first suggested Regeni might have died in a road accident. They have issued scant information about their investigation. An Italian autopsy showed that Regeni's body was covered with cuts and his bones were broken, indicating he had been hit with "fists, batons and hammers".
A letter "X" was carved on his forehead and hand, according to the report cited by Italian media. Egypt-Italy relations have deteriorated since Regeni's murder.
Italy withdrew its ambassador to Egypt over the slow process and stilted investigations into Regeni's brutal murder, which experts and officials widely believe was the work of state actors – despite staunch denials by Egypt's government.
Egypt has pledged to bring Regeni's killers to justice, and Egyptian and Italian investigators have held regular meetings in Rome.
Italian officials have stated that they have received all the requested evidence – such as phone records – but more than a year after, Regeni's murder remains unsolved.