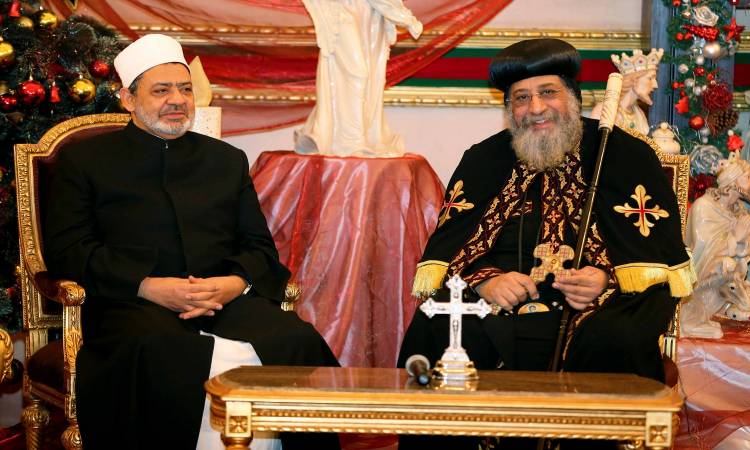 The Grand Imam of Al-Azhar Ahmed al-Tayyeb received on Sunday the Pope of Egypt's Coptic Orthodox Church Tawadros II, who offered felicitation for the occasion of Eid al-Adha and for the Imam's return to his homeland following a successful therapeutic trip to Europe.
Tayyeb thanked Tawadros, asserting that the relationship between Al-Azhar and the Coptic Orthodox Church is a model for shared values and noble morals.
Tawadros affirmed his happiness and that of all Egyptians for Tayyeb's good health, adding that the participation of Copts in Islamic festivals reflects a spirit of love, cohesion and unity between Copts and Muslims and deters attempts to divide them.
Egypt's Grand Imam of Al-Azhar Ahmed al-Tayyeb headed to Germany on July 2 for medical examinations on his back and for the completion of treatment.
Tayyeb was born January 6, 1946 and is the current Grand Imam of Al-Azhar. He was appointed by the former Egyptian President Hosni Mubarak following the death of Mohamed Sayed Tantawy in 2010. He is also the former president of Al-Azhar University.
Born in Luxor Governorate of Upper Egypt, Tayyeb belongs to a Sufi family.
Edited translation from Al-Masry Al-Youm