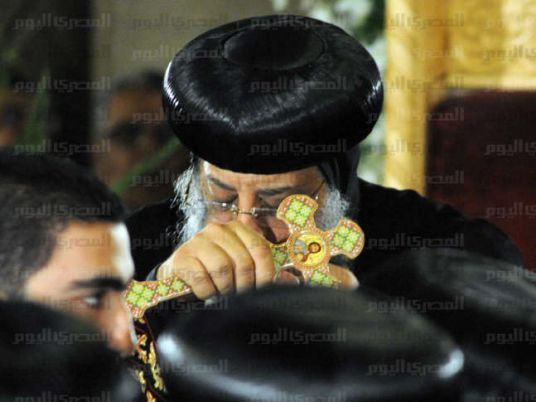 Pope Tawadros II of the Coptic Orthodox Church will preside this evening over the Mass of the Resurrection at the Cathedral of St. Mark in Abbasseya, in the presence of around 7,000 citizens and public figures invited to the mass.
Samuel Matias, director of the cathedral ceremony and head of the church scout teams, said that a large number of scouts from Cairo's various churches will help guests to their places and organize entry and exits.
Security services tightened procedures in front of the Cathedral of St. Mark in Abbasseya and various churches throughout the country. They also warned that no cars should be allowed within the vicinity of cathedral, and that all visitors must pass through electronic gates and undergo police inspection procedures.
A large number of worshipers were present at the event.
Security procedures tightened across the governorates, and at churches and public parks in preparation for Easter celebrations. Crackdowns were launched on the markets to control expired fish, upon instructions from Minister of Local Development Mahmoud Shaarawy to raise emergency ahead of the Easter holiday.
He instructed the formation of emergency teams to repair any breakdowns in facilities and services.
Pope Tawadros also held the Good Friday Prayer at the Cathedral of St. Mark in Abbasseya on Friday, where the Seminary College choir led by deacon Ibrahim Ayad participated.
Edited translation from Al-Masry Al-Youm