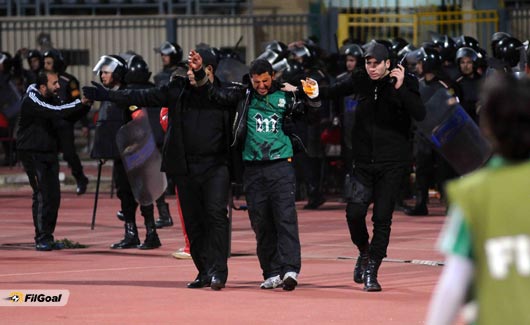 PORT SAID — Port Said residents are adamant that the violence at Wednesday's football match here was caused by infiltrators, not hardcore local football fans.
A handful of supporters of the Masry Football Club, which beat Cairo's leading team Ahly 3-1 before the violence began, told Egypt Independent Thursday that what happened the day before was the premeditated work of infiltrators taking advantage of an intentional security vacuum. They pointed out that the gate between the stands and the pitch was left open, while at the same time the exit to the area where Ahly fans were sitting was kept closed.
At least 71 people died and more than 300 were injured in the violence Wednesday night.
Thousands of people gathered outside the Port Said governor's headquarters by late afternoon, chanting, "Port Said is innocent!" and "This is the truth," blaming security forces for the deadly violence.
"This is a conspiracy. We wouldn't do this to our brothers," said Mohamed Abdel Fattah, standing outside of the governor's office. "The Ahly supporters were predominantly from Port Said. My brother was one of them. Port Said is sad today; all residents of the city are sad and feel as if their own relatives have died."
Thousands gathered outside the Ahly club's headquarters in Zamalek, Cairo Thursday afternoon to protest the security forces' failure to intervene and prevent the Port Said violence.
News emerged from the People's Assembly Thursday that the Port Said governor resigned in response to the tragedy.
The resignation came amid rising calls for accountability for the stadium disaster. A coalition of political groups and individuals issued a statement early Thursday demanding the People's Assembly withdraw confidence from the interim cabinet headed by Prime Minister Kamal al-Ganzouri. And later in the day, the April 6 Youth Movement and Popular Campaign to Support Mohamed ElBaradei called on Egyptians to engage in civil disobedience until 11 February to try to force the ruling military council from power.
A number of experts and human rights advocates have accused Egypt's ruling military of complicity in the violence.
Amr Hashem Rabia from the Al-Ahram Center for Political and Strategic Studies, said the ruling Supreme Council of the Armed Forces was complicit in the events through inaction. Journalist Saad Hagras also accused the SCAF and remnants of the former regime of involvement, telling Al-Masry Al-Youm that the incident was the result of a plot made in advance.
Bahey Eddin Hassan, director of the Cairo Institute for Human Rights Studies, blamed the SCAF's lack of genuine desire to reform security services for the ongoing security void.
Gamal Eid, director of the Arab Network for Human Rights Information told Al-Masry Al-Youm that the SCAF has been working to sow division among Egyptians, stressing that the military council is the principal beneficiary of the current events.

Additional reporting by Al-Masry Al-Youm.