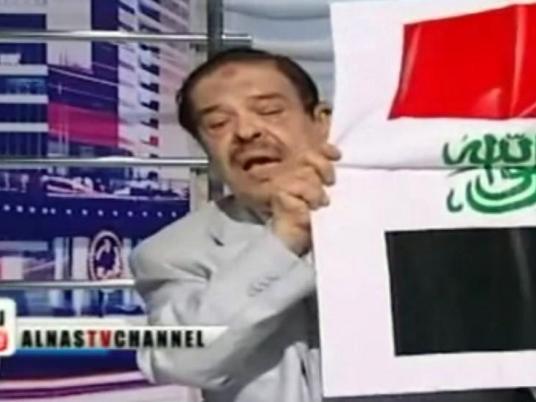 Islamic preacher Sheikh Ahmed Amer has launched a campaign demanding the image of the eagle in the Egyptian flag be changed to the Muslim declaration of belief, "There is no god but Allah and Muhammad is His Messenger."
On his TV show, "With the Holy Quran," on the private Islamic preaching satellite channel al-Nas, Amer appeared on Friday evening holding an Egyptian flag in the form he proposed, saying that if the change he proposes is carried out, the flag "will always be raised."
Amer gave the government a week to start implementing his suggestion before he calls on supporters to demonstrate in the streets of Egypt holding the new flag.
The suggestion was met with mixed responses on social media platforms. Mahmoud al-Badawi, a Facebook user, wrote, "As for the Sheikh who wants to change the flag, the meaning of the unification [of God], its significance, impact and worth are much more than to turn it into a phrase on a flag. The Egyptian flag must stay as it is, as we [continue] to believe in God in any country, place or time."
Sheikh Ahmed Amer is known for his show on the rules of reciting the Quran. He also presents another show on the radio station The Holy Quran and the Satellite channel Nile Culture. Both are state-run.
The private Islamic preaching channel al-Nas, on which Amr proposed his suggestion, is known for its Salafi orientation, since most of its shows are dedicated to Salafi preachers. Howerver, the "I am Salafi" page on Facebook said that Amer does not have a particular political affiliation, whether with the Salafis or the Muslim Brotherhood.
Since the fall of former President Hosni Mubarak, the popularity of Islamists has risen steadily and culminated with their winning a majority in the now-dissolved Parliament. In August, protests were staged against the political hegemony of Islamists, particularly the Muslim Brotherhood and its political arm, the Freedom and Justice Party. Egypt's newly elected president, Mohamed Morsy, also formerly belonged to the Brotherhood.
Edited translation from Al-Masry Al-Youm