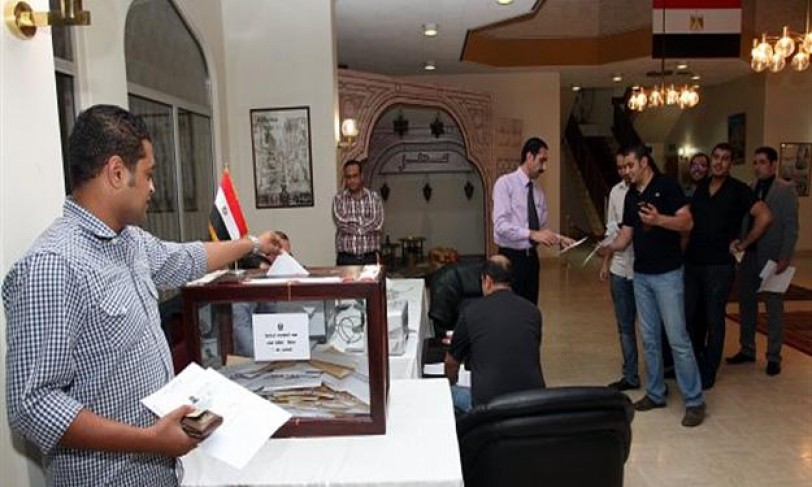 Egypt's National Elections Authority has concluded all necessary arrangements for Egyptian expats to conduct their votes via mail for the senate elections set for Sunday and Monday.
Elections will be held abroad in 141 committees at Egyptian embassies and consulates within 124 countries.
Voting at home will take place on August 11 and 12, while electoral silence comes into effect from Saturday at 12 am, coinciding with the end of the electoral campaigning period for the candidates.
In a statement the NEA explained that expatriate voting will be conducted via mail only for those who registered from July 25 to 31.
It added that voters abroad will be provided with ballot papers on Sunday and Monday at nine am (at each country's timezone) at the authority's website.
Voters must choose the "expats vote" box and enter a password previously obtained while registering their data.
And Minister of Religious Endowments, Mohamed Mukhtar Gomaa, warned that any attempt at using mosques in electoral campaigns by any party or candidate will be dealt with decisively.
He stressed that those violating the NEA's instructions and the law are not worthy of the people's trust.
Elections for Egyptians abroad will begin on August 9-10 while elections in Egypt will take place August from 11-12. The results will be announced on August 19.
Run-off elections will begin on September 6-7 for Egyptians abroad and on September 8-9 within Egypt, with the final results to be announced on September 16.
President Abdel Fattah al-Sisi late June ratified a law establishing a new senate, which will function as an upper house of the parliament.
It replaces the Senate Council with the Shura Council, which was the previous name of the chamber during former President Hosni Mubarak's era — the last time the chamber was in use.
The bill to establish the Shura Council, which was abolished after Mubarak was overthrown in 2011, was submitted by Abdel-Hadi al-Qasabi, the head of the Support Egypt Coalition.
The senate will consist of 300 members, 100 of whom are elected by a closed list system, 100 elected by an individual system, and 100 appointed by the president.
The term of membership in the senate will be five years, starting from the date of its first meeting.