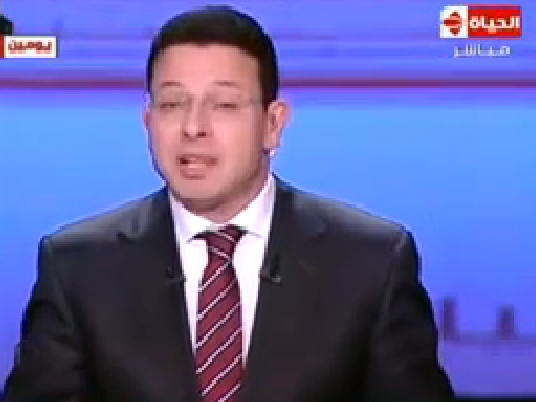 A presenter from the popular Al-Hayat satellite channel has decried the presidential palace's neglect of reporters who were covering a news conference on President Abdel Fattah al-Sisi and his guest, Vladimir Putin of Russia, on Tuesday.
Amr Abdel Hamid said he and his colleagues were disappointed with the hall in which they waited for over five hours without food or drink for the two leaders to start their conference.
"I, along with my Egyptian and Russian colleagues, had been waiting at Kasr al-Kobba Palace since 10:30 am for the conference to start, which only took place around 3:00 pm," Abdel Hamid said in his program on Tuesday, criticizing what he described as poor organization ahead of the event.
"We were waiting in what looked more like a basement," Abdel Hamid added, saying that the place "was not adequate as a press center at the government palace." He explained that they had waited without food or drink for several hours before a young man appeared with a tray laden with sweets.
"The press delegation thought it was served as a gesture of hospitality from the presidential palace, but were surprised to find out that the guy was selling the items for LE5 each," he recounted.
Putin's meeting with Sisi tackled various issues of economic and political cooperation.