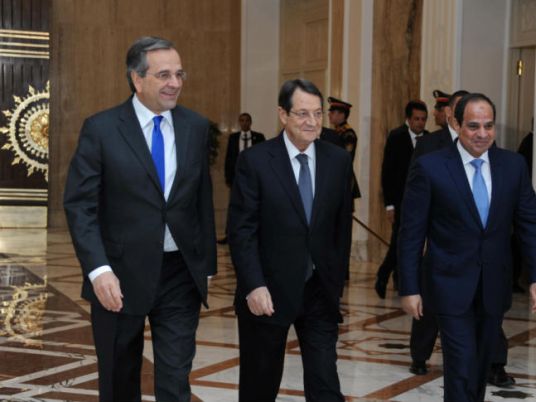 gypt's President Abdel Fattah al-Sisi will embark on an official trip to Cyprus and Spain scheduled for April 29 to 30, the presidency announced in a statement on Sunday.
Sisi will first stop at Nicosia, the capital of Cyprus, where he is scheduled to hold talks with Cypriot counterpart Nicos Anastasiades. The president will also attend a summit with Anastasiades and the Greek Prime Minister Alexis Tsipras.
Cairo had hosted a summit for Sisi, Anastasiades and former Greek Prime Minister Antonis Samaras in November 2014, where they agreed on a new partnership between Egypt and the European Union, with Greece and Cyprus as "ambassadors".
Presidential Spokesman Alaa Youssef said in the statement that Sisi's visit to Cyprus is a follow-up to the November summit.
Sisi will then fly to the Spanish capital of Madrid, where he will meet Spanish King Felipe VI and Prime Minister Mariano Rajoy. The president is also scheduled to sign a number of bilateral agreements.
Sisi's visit aims to strengthen bilateral ties with Spain, Youssef said. He added that Spanish investment in Egypt has exceeded 700 million Euros in the fields of gas, cement and railroads.