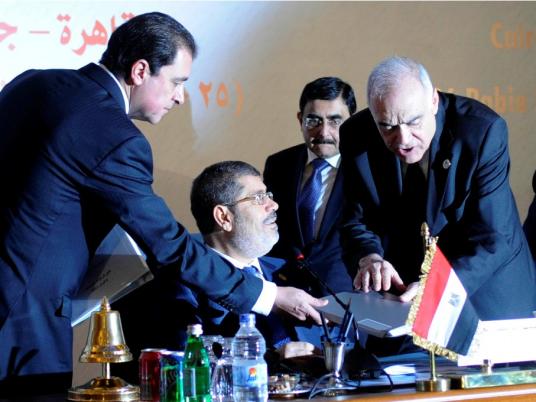 Sources from the president's office said Tuesday that President Mohamed Morsy's legal adviser had submitted his resignation.
The anonymous sources said adviser Fouad Gadallah was stepping down due to "the lack of vision in managing the state and [the president's] support of the Qandil Cabinet despite the fact it has failed politically, economically and in terms of security."
Gadallah said in an interview with Al-Masry Al-Youm published Tuesday that Morsy consults the Muslim Brotherhood's Guidance Bureau when making some decisions, as he would any other state institution.
He added that the Guidance Bureau nominates figures to assume posts in the government, with the president making the final decision.
The judiciary and Armed Forces are among the state's most important institutions, Gadallah said. He added that both should be reformed from within by its members and without interference from other state institutions.
Gadallah also rejected protests staged by the Muslim Brotherhood on Friday that demanded the judiciary be purged, and described the demonstrations as tragic.
The adviser said he had resigned Monday and thanked Morsy for his trust.
Gadallah said another reason he was leaving was his objection to a single ruling party running the country during the transition period that excluded other political forces from the decision-making process. He also did not support relying only on those loyal to the government versus competent and experienced figures.
Edited translation from Al-Masry Al-Youm