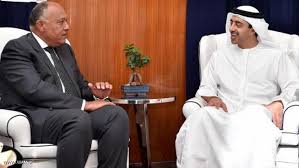 President Abdel Fattah al-Sisi will head to the United Arab Emirates on a two-day visit to discuss the latest developments including Palestinian and the Qatar crisis, in addition to Egyptian-UAE bilateral relations with senior Emirati officials.
A senior-level delegation from the Egyptian presidency travelled to Abu Dhabi on September 21 to make arrangements for the president's meetings.
Meanwhile, the foreign ministers of Egypt, Greece and Cyprus talked during the United Nations General Assembly on mechanisms of cooperation between the three countries, foreign ministry spokesperson Ahmed Abu Zaid said.
Abu Zaid added that the three foreign ministries the underlined importance of improving dialogue and understanding between youth in the three countries.
Egypt called on Greek and Cypriot youth to participate at the international youth conference in Sharm al-Sheikh in November.
The three foreign ministers agreed to increase cooperation on terrorism-combat, tourism and the transportation fields, in addition to enhancing mechanism of dialogue with the European Union.