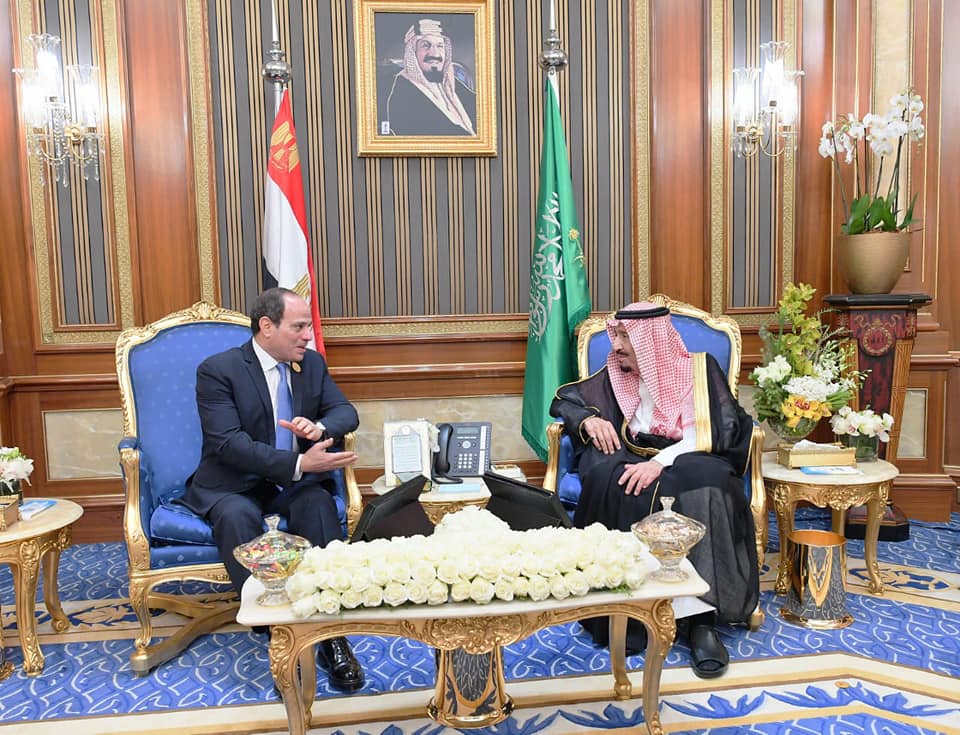 President Abdel Fattah al-Sisi met with Saudi Arabia's King Salman bin Abdulaziz on Friday night on the sidelines of the 14th Islamic Summit, hosted by the Organization of Islamic Cooperation in Mecca city.
The two leaders held bilateral talks stressing the importance of maximizing Egyptian-Saudi cooperation as a pillar of Arab national security.
Presidential spokesperson Bassam Rady said that the Saudi king warmly welcomed Sisi, noting the appreciation Saudi Arabia feels towards Egypt's leadership and people in the light of historical ties between the two countries, and affirming the depth and strength of these relations.
Rady added that Sisi stressed Egypt's keenness to cooperate closely with Saudi Arabia towards developments currently taking place in the Middle Eastern region, within the context of strategic relations between Egypt and Saudi Arabia, as cooperation between the two nations is critical towards achieving regional stability.
Regarding regional issues, the two leaders agreed to continue joint efforts in strengthening cooperation between Arab and Islamic countries to meet increasing challenges and threats to regional security.
In this context, President Sisi stressed that Gulf region security represents one of the pillars of Arab national security for Egypt and is linked to Egypt's own national security.
Sisi also held talks the same night with Saudi Arabia's Crown Prince Mohamed bin Salman.
Rady said that the talks dealt with ways to enhance various aspects of bilateral relations between the two countries, especially at the economic and investment levels, in light of the promising investment opportunities available to both sides.
He added that their discussions also touched on the issues on the regional scene, Gulf region and other issues such as Syria, Yemen and Libya.
Edited translation from Al-Masry Al-Youm