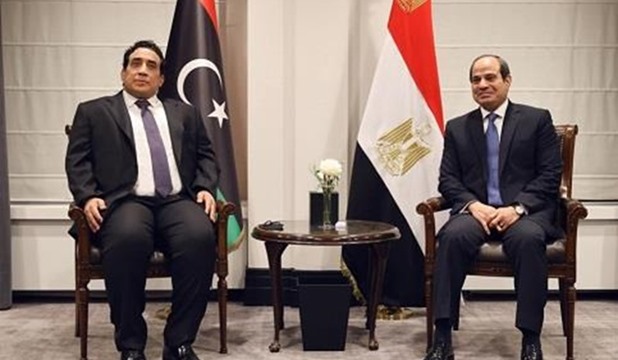 President Abdel Fattah El Sisi met Thursday with President of the Libyan Presidential Council (LPC) Mohamed al Manfi, said Presidential Spokesman Bassam Rady.
The meeting was held on the sidelines of the proceedings of third and last day of the Washington-hosted US-Africa Leaders Summit, added the spokesman.
President Abdel Fattah El Sisi reiterated Egypt's firm stance of supporting the efforts exerted by the Libyan Presidential Council (LPC) under the chairmanship of Mohamed al Manfi to help the Libyans in providing the proper atmosphere for holding the presidential and parliamentary elections at the same time in order to have a positive impact on the political efforts to end the current crisis in the country and implement the Libyan people's will.
Presidential Spokesman Bassam Rady said that the meeting covered the latest developments on the Libyan territories.
LPC Chief on his part asserted his country's great appreciation at the official and popular levels to the vital role played by Egypt under Sisi's leadership in maintaining peace and stability in Libya in light of the sisterly and historical ties binding the two countries, underlining Egypt's pioneering role in supporting the Libyan national institutions.