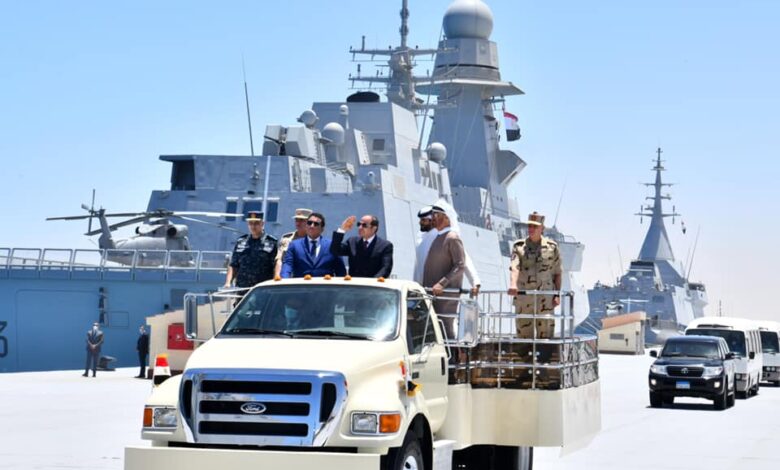 Egyptian President Abdel Fattah al-Sisi said on Saturday that negotiations with Ethiopia over the Grand Ethiopian Renaissance Dam (GERD) should not continue indefinitely.
The president assured that Egypt is seeking a binding legal agreement in line with international norms.
This came during a speech Sisi made at a luncheon following the completion of the opening ceremony of the Third of July Naval Base on the northwest coast of Egypt.
Sisi stressed that his state both appreciates and understands the development requirements in Ethiopia, but asks that this development does not come at the expense of others.
Egypt has not threatened anyone, either directly or indirectly throughout its history despite its military power, he said.
He added that the approach of negotiations was one that the Egyptian state insisted on with the Ethiopian side during the past ten years.
President Sisi concluded his speech by thanking friendly countries and those nations making efforts to mediate in the issue of GERD, because of the importance of the issue to the Egyptian people.
Egypt's Foreign Minister Sameh Shoukry headed on Sunday morning to New York City in preparation for the scheduled session of the United Nations Security Council to address the GERD, which is being held at the request of Egypt and Sudan.
Egyptian Foreign Ministry spokesperson Ahmed Hafez said that Shoukry is scheduled to hold a series of intensive meetings with counterpart ministers, permanent delegates of Security Council member states, and United Nations officials.
Shoukry's meetings in New York will stress Egypt's firm position on the GERD, he said, which is based on the need to reach a binding legal agreement on filling and operating the dam that takes into account the interests of the three countries and preserves Egypt's water rights and interests.
Shoukry on Saturday stated that in the absence of an appropriate Security Council resolution regarding GERD crisis, Egypt will continue to work through international contacts and communicate with the African Union.
During a phone interview with the talk show "Hadith al-Qahira" (Cairo Talk) on the "al-Qahira wal Nas" (Cairo and the People) channel, Shoukry pointed out that Egypt affirms that it has the ability to defend its water interests.
"The Egyptian authority will spare no effort to protect the Egyptian national security and its water rights, and all means are available to the Egypt in dealing with the crisis of the Renaissance Dam, and that Egypt relies on peace within the political framework to avoid conflict, clash and tension that may result in the Horn of Africa."