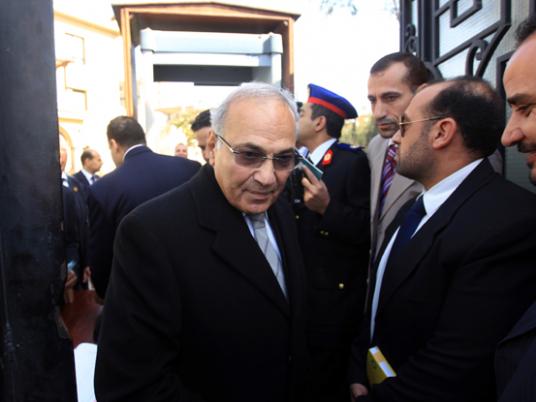 As funeral prayers were said for the wife of presidential hopeful Ahmed Shafiq at the Thawra Mosque in Heliopolis on Saturday, presidential candidates and political figures offered their condolences.
Shafiq's wife died on Friday night at the Egypt Air Hospital after a battle with illness.
Disqualified presidential candidate and former Vice President Omar Suleiman, Attorney General Abdel Maguid Mahmoud and Minister of Housing Mohamed Fathi al-Baradei were among the most prominent attendees of the funeral.
Hani Helal, Osama Heikal and Ahmad Zaki Badr, respectively the former ministers of higher education, information and education, also attended, as did papal secretary Father Armia.
On Twitter, presidential hopeful Amr Moussa said, "I convey my most sincere condolences to my brother commander Ahmed Shafiq for the death of his wife, may Gold bless her."
Presidential hopeful Hamdeen Sabbahi also offered his condolences on Twitter.
The official campaign for presidential hopeful Abdel Moneim Abouel Fotouh also conveyed sympathy.
A Facebook group named "We are sorry, president," which supports ousted leader Hosni Mubarak, encouraged its members to attend the funeral.
Several supporters of disqualified presidential candidate Hazem Salah Abu Ismail also expressed condolences.
Also on Twitter, the April 6 Youth Movement conveyed condolences, saying that political disagreements between it and former regime figures "have nothing to do with personal, humanitarian positions."
Translated from Al-Masry Al-Youm