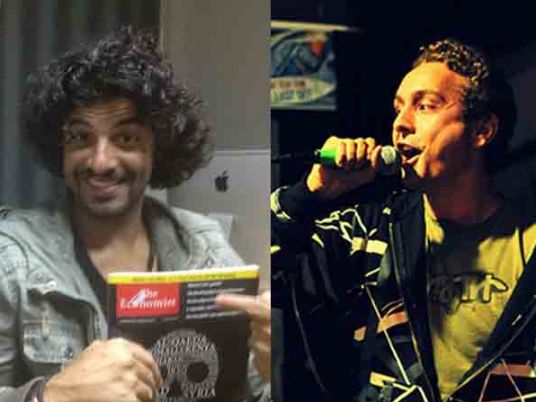 Press release (21:35 hrs, Thursday 24 January 2014):
Egyptian State Security Investigations Service detain US citizen and Egyptian filmmaker without charge in unknown location
The Egyptian State Security Investigations Service (SSI), Mabahith Amn ad-Dawla, detained without charge US citizen Jeremy Hodge and Egyptian filmmaker Hossam el Din Salman el Meneai since 10:45pm (Cairo time) on Wednesday 22 January 2014. At 10:45pm today (Friday 24 January 2014) it will have been 48 hours since the pair were taken from their apartment at the Diplomats' Building inMidan Misaha, Dokki, Cairo, by 12 SSI agents.
According to their lawyers, who said they have not been able to meet with Hodge or Meneai since their detention, the pair are currently being held in an unknown location. Neither the SSI nor police have provided reasons for the arrest and the authorities still have to write a report and arrange a court hearing, the lawyers told the pair's friends on the evening of Thursday 23 January. The lawyers said they are in the process of filing missing persons and kidnap reports with the relevant authorities.
Jeremy Hodge, 25, from Los Angeles, California, a Cairo-based independent Arabic-to-English translator, has recently taken translation assignments from the Berlin-based Transparency International as well as a translation service, Industry Arabic. Between November 2012 and November 2013, he worked an Arabic translator for the Daily News Egypt, an English language daily in Cairo.
Hossam Meneai, 36, from El Arish, Sinai, is an independent documentary film maker, and was most recently commissioned to produce a documentary about Coptic Christmas for Russian state television. For the documentary, he told friends he had scheduled to meet with Pope Tawadros last week in Alexandria and interviewed a number of members of the Coptic Church.
Many of the pair's friends have been in contact with the US embassy in Cairo, who told them they have made some representations. The extent of the US embassy's representations has been unclear, but a US embassy caseworker told Hodge's friends they are working with authorities to meet with him this Sunday.
On the morning of Friday 24 January, Hodge's mother, Lisa de Moraes in Los Angeles, spoke to Loghman Fattahi at the US embassy in Cairo and was told they had not been able to visit Hodge yet.
De Moraes told Fattahi at the US embassy in Cairo that he has "serious asthma and is at risk of having an attack if he doesnot have his medication." Hodge's mother told Hodge's friends that Fattahi "basically did not give hermuch information, except that he would not be able to see Jeremy until Sunday."
The third flatmate, Nizar Manek (a British citizen who was not taken into custody, but was placed under a form of preliminary house arrest for over two hours before the 12 SSI agents took Hodge and Meneai into custody), subsequently returned to their apartment to locate asthma medications for Hodge, but found scratch marks close to the keyhole and was unable to open the door with his key.
Two SSI agents who remained in the reception area of the Diplomats' Building in Midan Misaha, Dokki, Cairo, immediately after the pair were taken, told Manek that the pair had beentaken to Dokki police station. Hodge sent text messages to friends from Dokki police station to confirm the location, but sent a subsequent text message that evening to inform them his mobile phone was about to be confiscated.
"They're asking Hossam about Sinai and his camera," Hodge texted one friend. "They're asking me how I know him, and where I learned my Arabic." He texted another friend: "Hossam is being investigated, I'm waiting around."
There has been no communication with Meneai.
On Thursday afternoon, the pair's lawyers told their friends they had been held for overnight questioning at an unknown location on Wednesday, though had otherwise been at Dokki police station. After going to the police station at 1:30am on Wednesday night to provide food and cigarettes (for bartering inside the police station or subsequent locations), 11:30am, 2:0pm, and 7:30pm on Thursday, the lawyers informed their friends were unable to meet with the pair at any point.
On Thursday evening, the lawyers said they were no longer able to locate the pair and they could be in one of the State Security'sbuildings or the Giza Security Directorate, or elsewhere.
Timeline
Three SSI agents entered their apartment in the Diplomats' Building in Midan Misaha, Dokki Cairo at 6:30pm that day, asking to check their passports, together with the passport of the third flatmate Manek, a British citizen studying Arabic at Cairo University and otherwise an independent journalist. Manek arrived in Cairo late August 2013, and was previously a Marjorie Deane fellow at the Financial Times newspaper in London.
After the three agents were apparently satisfied with the passports of the three flatmates, they left the apartment. Hodge and Manek left the apartment and encountered twelve SSI agents who saw them outside the Diplomats' Building, who again asked for their passports. They were taken back to the apartment and detained for approximately two-and-a-half hours until Meneai returned. (Meneai had left the apartment after Hodge and Manek.)
During this time, two SSI agents remained. Primary concerns appeared to be that Hodge was an American and fluent in Arabic, and how they both had become friends with Meneai, according to Manek.
When Meneai returned to the apartment, the two SSI agents summoned the remaining ten, who according to inferences from their telephone conversations,seemed to have been questioning Spaniards living on the second floor of the same building.
The 12 agents briefly searched the apartment, and then took Hodge and Meneai into custody. Manek says he is safe and unharmed, and has been in contact with both the British embassy in Cairo and the UK Foreign Office in London.
The lawyers said detention of Hodge and Meneai is likely to be prolonged, given that Friday is not a working day in Egypt, and Saturday is a public holiday marking the third anniversary of the 25 January 2011 Egyptian revolution – and is likely to prompt mass protests.
Press contacts:
1. Ahmed Hassan, Hisham Mubarak Law Center – lawyer (Cairo): (+20) (0)1228289396
2. Drew Brammer – friend of the three flatmates (Cairo): (+20) (0)1121655616
[email protected]
3. Lisa de Moraes – Jeremy Hodge's mother (Los Angeles): (+1) 323-610-1118,
[email protected]
Correction: Meneai was not able to meet with the Pope Tawadros as previously stated, though he had scheduled a meeting.