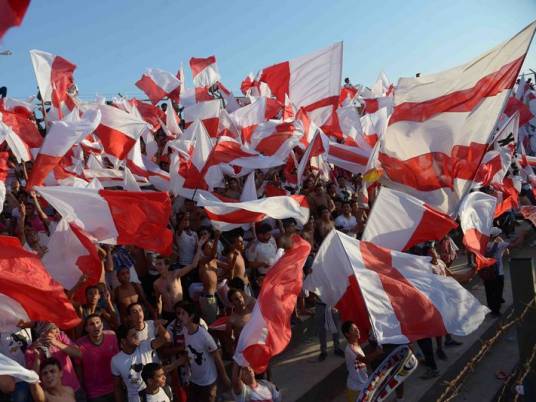 Fritction between the hardcore football fan clubs of Ultras Ahlawy and Zamalek's White Knights on the one hand, and the officials of the clubs and the Football Association on the other, could be threatening the football league.
The Ultras Ahlawy insist on attending all matches of the second round, beginning with the match against the Police Union Club on Saturday, while the other club insists on holding the match without spectators.
The group told 10,000 fans on Facebook to attend the match, saying the Ahly Club is in third place and needs the support of its fans.
For his part, Ahly Club Manager Mahmoud Allam said the Police Union Club is responsible for securing the match. "According to the bylaws, we will win if the match is cancelled because spectators stormed the stadium," he said. "How would I know they are our Ultras? They could be other groups that want us to be penalized."
"We will insist that the police union fans do not attend the match," he said.
"We cannot control the behavior of the spectators," he said. "This is up to the security services to do."
He said the Ahly Club is allowing its fans to attend the match with Wadi Degla with no restrictions.
Meanwhile, the White Knights refused to sign applications to attend matches, as was ordered by the president of the Zamalek Club.
Edited translation from Al-Masry Al-Youm