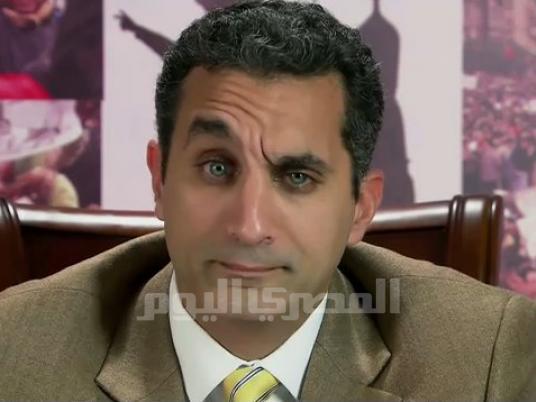 Bassem Youssef is visibly exhausted. A man known for his vitality and humor both on and off-screen, he seems tired, mentally and emotionally. Like many Egyptians, the past year has taken its toll on his wit. And given his field of work — a satirist TV presenter exposing the hypocrisy of Egyptian media and public figures — his air of defeat is worrying.
"It's been a rough year," he admits. "The SCAF has played nicely with us for a full year. And now the stuff we used to make fun of, like [media figure] Tawfiq Okasha, has become mainstream media."
Almost one year on from launching his successful YouTube program "El Bernameg," then transitioning to ONTV last September, Youssef now feels cornered. To him, it seems his work has had little effect on the Egyptian media and its audience.
Nevertheless, he doesn't give up. For one, he speaks fondly of his show.
Although its main pull is its scathing satire, El Bernameg is also effectively a media watchdog that monitors and exposes the lies and fallacies being propagated in Egyptian media. No public personality is spared; not even ONTV's owner, Naguib Sawiris.
Youssef insists that his attacks are never personal.
"It's just the truth. If you say something I don't like, I'm going to talk about it."
Some people have taken it personally, though: TV hosts Okasha and Khaled Abdullah, both subjects of his ridicule, have retaliated with on-air name-calling.
In a pivotal moment in Youssef's career, Abdullah challenged him to appear on his talk show on the Salafi Al-Nas Channel. Then the invitation was quickly retracted. When Amr al-Leithy offered both TV hosts a spot on his show for their debate, Abdullah declined again.
Youssef can't resist a mischievous grin, acknowledging that it was a personal victory.
"He's afraid to face me, the 'Shokookoo' or 'Biliacho' as he called me," he says. "It shows his weakness, not my strength."
TV hosts Ahmed al-Meselmany and Moataz Matar agreed to appear on his show after he made fun of them, an indication to Youssef that his show is breaking ground and having some impact.
"[They] showed class," he adds, "because [they] understood the content."
He sighs. "At the end of the day, it's a spoof. We have a message, but it's also a spoof. Lighten up."
It's a tough job creating satire, and El Bernameg's team dedicates long hours to researching, archiving and locating patterns in the media footage that they monitor.
"Jon Stewart once said 'I don't believe in random creativity, I believe in constructive, planned creativity,'" Youssef explains. "And this is how we create. And it's all based on research and journalism."
There is no ego in Youssef — he insists that he and his team are extremely critical of each other and everyone works equally hard on the product.
"To work on this program, it's about passion, dedication and ethics," he says. "The people I work with are willing to sit for eight hours looking for fish."
With his season coming to an end in March, Youssef has ambitious plans for his show's future: he hopes to bring the Jon Stewart talk show formula to Egypt; a one-hour talk show with various segments and a live audience at a real theater in central Cairo.
This formula is unprecedented in the Arab World, but Youssef insists that Egyptian audiences deserve this.
"We have contributed to changing the face of media by introducing political satire and now we want to revolutionize the format itself," he says. "We want to revive the theater experience in Egypt through TV; that's huge."
Indeed, Youssef is a media phenomenon in Egypt. He is the first TV personality to transition from a massively successful YouTube show to a popular TV channel. His YouTube show remains the highest viewed in Egypt, with well over 33 million views, and it's the first and only Arabic YouTube channel in the Middle East with eight official commercial ads.
These factors, in addition to the bulk of commercials on his ONTV show, are strong indicators of success.
But with the steep financial investment that the new format will demand, Youssef is unsure if he will continue with ONTV or other channels, Egyptian or regional.
"With the country's situation the way it is; only God knows if it will actually happen," he says.
This week, Youssef and his team will travel to Tunisia, where they have been invited to film episodes of El Bernameg. This is the first time that Youssef will film outside of Egypt.
"It's a golden opportunity that we can't miss out on," he says. "Tunisia is where it all started. And instead of hearing about Tunisia, it's time that someone actually goes there to find out and understand."
Though some may envy the progress the Tunisian revolution has made in comparison to Egypt, Youssef points out that they have their own demons.
"We have our battle with the SCAF and with hezb al-kanaba; they have their battle with the Salafi community. This is why we need to go and understand."
Though he has frequently filmed in Tahrir Square to defend the revolution, he's careful not to be redundant or appear to be exploiting the situation.
"It's about playing it smart; you need to be very careful about the messages you send," he says. "And sometimes you can serve the cause better if you stay at home and write a good episode."
Be it conceived at home or beyond, El Bernameg has taken its toll on Youssef's life, with six-day weeks and 12-hour days.
"My wife deserves a place in heaven," he says. "She's very supportive of the show and I'm very sorry that I'm doing this to her. I barely see my parents, my family…" he shrugs.
"My season is coming to an end next month, and frankly I'm exhausted; mentally, psychologically. The whole team is drained. I'd love to tell you that we have fun doing the show, but it's very demanding to be honest."
He's also made professional sacrifices; he has now little time to practice as a pediatric heart surgeon and recently rejected a fellowship offer at a prestigious pediatric hospital in the US to remain in Egypt.
"I felt that I could have an impact with this show, that I can serve a certain message here, so I decided to stay," he says.
But with a baby on the way and the country's situation becoming increasingly daunting, he hopes that he won't regret his decision.
"I'm going to stay here as long as I can," he says, "But I still have these little voices that say, 'With the way things are, I can't raise my child here.'"
"As long as you don't have free media, you have to give up something somewhere," he adds. "All media [in Egypt] has agendas; in the end you just use their outlets. What are you going to do? At the end of the day, you want to get the tools to create the dream."