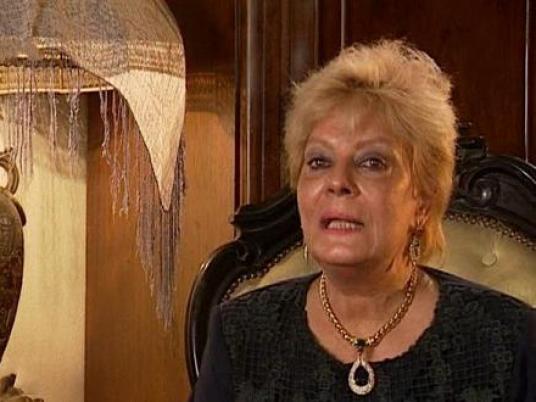 Prominent actress Nadia Lutfi's health has stabilized, and she is no longer being treated in the intensive care unit, said Sameh al-Serity, first undersecretary of the Actors Syndicate.
Serity said the head of the syndicate, Ashraf Abdel Ghafour, visited Lutfi in the hospital after her health condition had stabilized significantly.
The 75-year-old actress is still under medical observation after suffering severe shortness of breath last week. She was admitted to an intensive care unit so that her health could be closely followed.
Lutfi, who was born to an Egyptian father and a Polish mother, is known for her roles during the "Golden Age" of Egyptian cinema in the 1950s and 1960s.
Director Ramses Naguib introduced her to the big screen in the movie "La Anam" ("I Don't Sleep"), written by prominent writer Ihsan Abdel Quddous.
She then worked with many other leading directors, writers and actors, including director Mahmoud Zulfikar in "Adew al-Mar'a" ("Woman's Enemy"), Nobel Prize winner writer Naguib Mahfouz in "Al-Seman wal Kharief" ("Quail and Autumn") and Soad Hosny in the romantic comedy classic "Lel Regal Faqat" ("For Men Only").
Among her most renowned roles was in "Al-Nasser Salah Eddin" ("Saladin the Victorious"), also co-written by Mahfouz, and directed by Egypt's most-recognized director, Youssef Chahine. The movie discusses the Crusades, in which Lutfi plays Louiza, a European nurse who falls in love with a Christian Arab.
Edited translation from Al-Masry Al-Youm