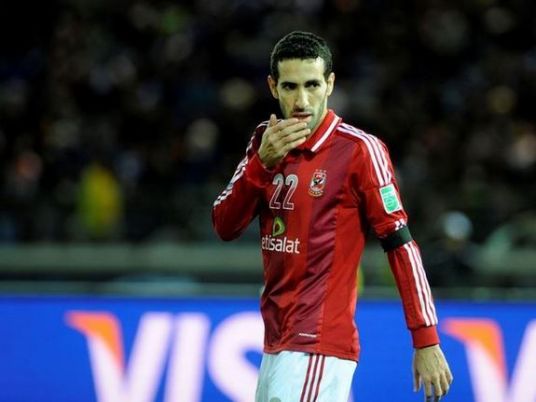 Prominent Ahly football team midfielder Mohamed Abu Treika officially announced his retirement Sunday.
Syed Hafeez, the club's sporting director, told reporters after a training session on Sunday: "Abu Treika phoned me and told me about his decision to officially retire and asked me to inform the football committee, headed by Hassan Hamdy."
Abu Treika was very popular among football fans. He joined Al-Ahly team in 2003/2004 and succeeded in attracting attention through many championship matches in which which Egypt's teams and Ahly were crowned. He decided to retire at the end of the World Cup for clubs.
Abu Treika had a muscle injury in the first match of the World Cup teams, further motivating his retirement.
Hafeez said all efforts to dissuade the international player have failed as he reiterated that it was the right time for him to retire and that he would not backtrack on his decision.
Abu Treika had many achievements since joining Al-Ahly team in 2003. He helped his team win the league championship seven times, Egypt's Cup 3 times, the Egyptian Super Cup four times, the UEFA Champions League five times, the CAF Super Cup twice and reach the World Cup 5 times.
The Egyptian national team won the African Nations Cup in 2006 and 2008. Abu Treika played a prominent role in both championships. He scored the Egypt team's winning goal in the 2008 Africa Cup of Nations.
Abu Treika earned the title of best league player twice, and league top-scorer once. He is a nominee for best African player in 2013.
Toppled President Mohamed Morsy's opponents have recently criticized Abu Treika due to his pro-Muslim Brotherhood leanings.
"Here comes the end. Thank you and I love you all. Forgive me if there was a default on my part, and good luck to Al-Ahly and the Egyptian team," Abu Treika wrote on his Twitter account Friday.
"Thank you my father, my mother, my wife, my children, my friends and all those who have trained and encouraged me. May God forgive those who insulted me," he added.
Edited translation from Al-Masry Al-Youm