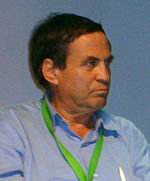 In the midst of escalating violence between Egyptian protesters and security forces, former Deputy Chief Staff of Israeli Defense Forces Uzi Dayan is calling for the creation of an Israeli "intervention force" to fight terrorism in Sinai if necessary, the Israeli daily Yediot Aharonot reported Wednesday.
"We must prepare for the worst-case scenario whereby the Islamists come to power," said Dayan. "In the first stage, we have to prepare for increased terror in Sinai. There are worrying signs of terrorist Islam in Sinai already."
One way Israel must prepare, he said, is to create an Israeli intervention force "that may have no choice other than to intervene in Sinai and fight terrorism there."
The retired general is the nephew of Moshe Dayan, a former Israeli defense minister well-remembered for his signature eye patch.
Palestinian militants killed eight Israelis in August following a cross-border raid. The attackers had infiltrated from the Gaza Strip into Sinai, from where they launched their deadly attack into Israeli territory. Israel's raid in response left six Egyptian soldiers dead, severely straining relations between the countries.
According to the Yediot Aharonot report, Dayan described what is happening in Egypt as a "fierce struggle" between the military and the Islamists. He predicted that the latter would prevail.
A new Egyptian government might opt to annul or ignore its peace treaty with Israel and remilitarize the peninsula, said Dayan, in which case Israel would need a diversified force at its disposal including air and ground support.
Egypt agreed to demilitarize the Sinai Peninsula as part of the 1979 peace treaty with Israel. The treaty sharply limited the number and types of military forces that Egypt is permitted to station in Sinai; increases beyond those limits are conditional upon Israeli approval. In recent years, Israeli authorities have accepted small increases in Egyptian troop levels to prevent infiltration from the Gaza Strip and to root out militants accused of planning attacks against Israeli targets.
"As an indication of things to come, we must follow what happens … with regards to demilitarization, as well as with the natural gas deal," Dayan is reported as saying. "These tests are indicators of where Egypt is going, if it intends to join the bloc of countries aspiring to democracy, whose enemies are extremist Islamist militias and a nuclear Iran, or if — in the worst-case scenario — Egypt will join this axis of evil."
However, although Dayan advocated for preparing for the worst, he also said Israel must do everything it can to preserve the peace treaty. He noted that the revolution consists mostly of citizens aspiring for democracy, but that organized Islam is better prepared to fill the power vacuum.
"Difficult economic conditions don't allow the military regime to meet the expectations of those who went to the square and brought revolution," he said. "In this situation, better prepared organizations are emerging, and these are the Islamist forces. They are exploiting the name of democracy for their own benefit, as did Erdogan, who talked about the European Union and democracy as a pretext to push out the military."
The article also cited former Chief of Intelligence Oren Shachor. General Shachor agreed that the Islamists wish to take power in Egypt, but said that any government would preserve the peace treaty with Israel, even if relations between the two countries "cooled further."
Nevertheless, Israel still "has an interest that the military regime rules for as long as possible," he said.