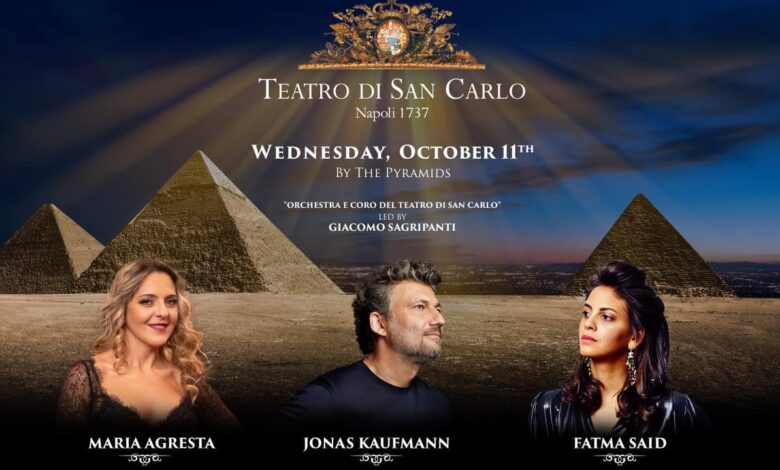 The organizing company behind the upcoming concert at the Giza pyramids for the Italian San Carlo opera house, the oldest opera in the world, has revealed several of the participating artists.
The concert, held on October 11, will include several world-famous opera stars such as: German tenor Jonas Kaufmann, hailed as opera's voice of the 21st century, Italian soprano Maria Agresta, considered one of the top three sopranos in the world, and Egypt's own soprano superstar Fatma Said, who has performed at some of the world's top opera houses.
Said stated her happiness in participating, "I am excitedly looking forward to performing again with the San Carlo Theater Orchestra. I also have the honor to welcome the players of this historic orchestra and prominent opera stars, Maria Agresta and Jonas Kaufmann, to give an exceptional concert at the foot of the eternal pyramids in my home country, Egypt."
And Agresta also expressed her pride in joining the event, saying, "I feel very proud and happy to participate in this huge event, where Italian musical heritage blends two ancient peoples and countries."
The concert is slated to feature performances of compositions from some of the greatest musicians in opera's history, such as Gioachino Rossini, Vincenzo Bellini, Gaetano Donizetti, Giuseppe Verdi and Giacomo Puccini.
Conductor Giacomo Sagripanti said of the event, "I am honored to lead the orchestra at the San Carlo Theater, accompanied by three of the world's brightest opera stars, Jonas Kaufmann, Fatma Said and Maria Agresta, on a unique evening in which Italian and Egyptian spirits unite with the language of international music under the charming Giza sky."
This international concert is sponsored by the Egyptian Tourism and Antiquities Ministry, the Egyptian Tourism Authority, the Italian Ministry of Foreign Affairs, and the Italian Embassy in Cairo.
The world-famous San Carlo Theater is an opera house located in the Italian city of Naples, and is amongst the oldest European theaters still in use to this day.
Built in 1737AD, the theater is characterized by golden decorations and furnishings in blue and gold.