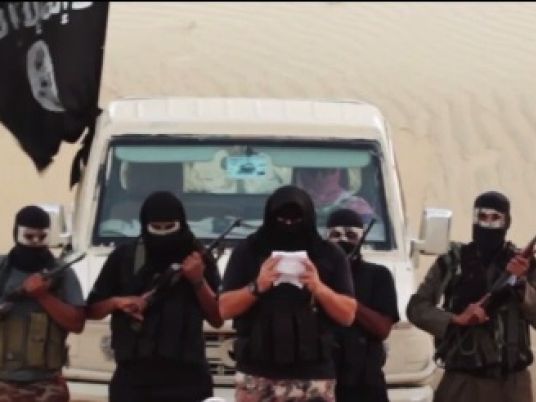 Egypt's Criminal Court designated the Sinai-based Ansar Bayt al-Maqdis militant group as a "terrorist body", placing its founder on a "terror list", alongside 207 other group members, the prosecution said on Saturday.
Egypt's top prosecutor Hisham Barakat said in a statement that the ruling was issued in a court session on Thursday, adding that it was based on his request.
The decision comes in implementation of an anti-terrorism legislation issued in February to prepare a "list of terrorist bodies" and a "list of terrorists", based on decisions by a special criminal judicial circuit at the Cairo Court of Appeals.
The prosecutor general said his decision is based on investigation conducted in a case where over 200 Ansar alleged members are on trial for assassinating policemen and bombing security facilities.
The trial of the 213 defendants resumed on Saturday.
All defendants face the charges of "establishing, leading and joining a terrorist group, assaulting citizens' rights and freedoms, harming national unity and societal peace, spying for the Palestinian Hamas Movement, vandalising state institutions, murder and possession of automatic weapons, ammunition and explosives."
The defendants are also accused of complicity in an attempt on former Interior Minister Mohamed Ibrahim's life in September 2013.
The prosecution said that the individuals listed as "terrorists" are accused of communicating with and receiving training from the al-Qaeda militant group. They then established "training camps and cluster cells" in several governorates including Sinai, the statement read.
The designation order is valid for three years, according to the statement.
An individual whose name ends up on a terrorists' list is put on a travel ban list. If the individual is a foreigner, they are put on an entry ban list.
Individuals listed as terrorists would also have their passports seized and would be prevented from issuing new passports, as per the law.
Militancy inside Egypt has seen a significant rise since July 2013, with the military ouster of Islamist President Mohamed Mursi, following mass protests against his rule. Most attacks target security forces in North Sinai.
Ansar Bayt al-Maqdis has claimed responsibility for most militant attacks carried out in the governorate since 2013. The group pledged allegiance to Islamic State fighters in Iraq and Syria last November, renaming itself as the "Sinai Province".
Thirteen people were killed in two separate attacks in North Sinai last Sunday, including security personnel from the police and the military. Ansar claimed responsibility for both attacks on a twitter account believed to belong to the group.