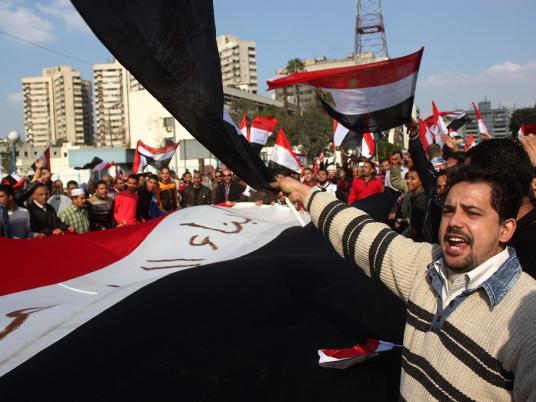 Dozens of activists organized a protest on Thursday outside the administrative headquarters of the privately-owned ONTV channel in Zamalek to protest what they described as the channel's policy of the incitement against the armed forces, Al-Masry Al-Youm reported.
The protesters chanted slogans against ONTV anchors Yousry Fouda and Reem Maged.
ONTV is an independent channel owned by businessman Naguib Sawiris. The Supreme Council of the Armed Forces had previously summoned Maged and two of her guests for questioning following an episode in May in which the SCAF was criticized.
Mohamed Imam, one of the founders of "The people and the armed forces are one hand" Facebook page, told Egy News that a number of other protests would be organized at a later time "to express our support for the armed forces and the police, and to express our dissatisfaction with the incitement taking place by some media outlets against the military and the police."
The activists had called for the protest through a number of Facebook pages.
Meanwhile, ONTV broadcast live coverage of the protest, and hosted a number of writers and media experts to comment on the protest.
Journalist Yasser Abdel Aziz said he supports peaceful protests, while Executive Director of the Arabic Network for Human Rights Gamal Eid said the protesters were supporters of former President Mubarak.