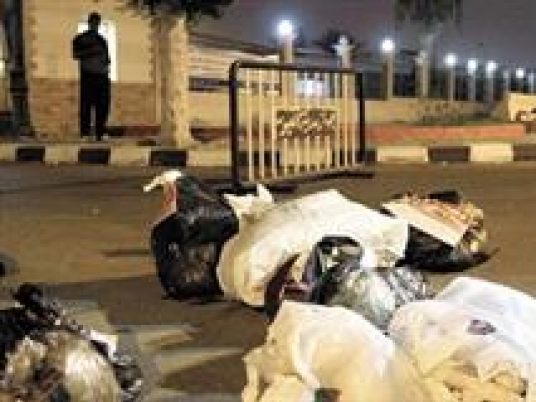 Citizens in Obour city, located on the eastern outskirts of Cairo, have launched a campaign urging citizens to protest local authorities' failure to collect garbage by littering the premises of the city's local municipality with trash.
"Be positive and put the garbage inside the trash can, and if there is no can, throw it outside the concerned city authority," read the slogan of "Erefna" (Fed Up), the popular social network campaign by the citizens who said local authorities were not interested in cleaning the neighborhood as much as the streets surrounding the office buildings.
On Tuesday afternoon, dozens of residents rallied outside the municipality's main gate before littering its vicinity with garbage sacs. Workers at the authority switched the building's lights off and removed the trash immediately afterwards.
Campaign coordinator Mohamed Heikal, a resident of Obour over the past 13 years, said he had opted for the city as his residency for its "calmness and cleanliness". He added, however, that he did not expect services to deteriorate as they have.
Emad Zaki, another dweller of Obour, said people, prompted by the absence of garbage collectors, used to leave their garbage at an unfinished building next to his house over the past ten years.
Amin Ghoneim, head of Obour's city council, defended his authority against accusations of negligence. He said the authority had contracted four garbage collector companies that are subject to "periodic performance checks". He stressed that the city's cleaning services are "good", and that 4,000 trash cans are distributed throughout its neighborhoods.

Edited translation from Al-Masry Al-Youm