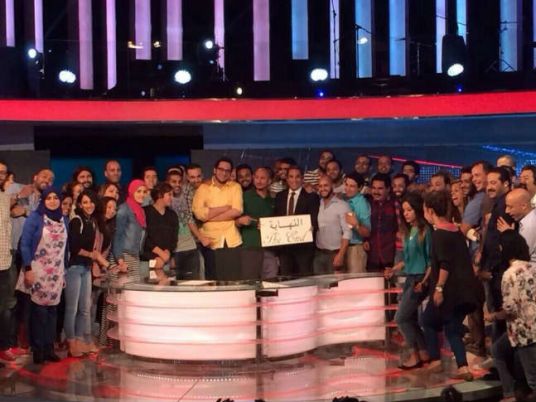 The suspension of the "AlBernameg" show, presented by the well-known satirist Bassem Youssef on MBC Masr channel, has sparked a wave of controversy. Egypt Independent has spoken to the public to hear their reactions of the decision.
AlBernameg had succeeded increasingly in the last three years in raising awareness of the concept of "political sarcasm" which was not very common in Egypt, and began to cut the popular stream of media monotone.
Youssef's show quickly grew in popularity, especially during the Morsy era, as he often criticized public figures, something very rare to Egyptians. His type of humor, however, earned him many enemies. He was charged and referred to public prosecution last year and his show was cancelled and moved to different channels multiple times.
Referring to Youssef's speech at the press conference about the his future, Youssef denied the idea to return back to practicing the medicai profession, and would not be able to have a contract with any channel. He did, however, admit the possibility of presenting another program, depending on its content.
"The suspension of AlBernameg wasn't a surprise for us; it also wasn't due to the content of any episode of the program as it was the presence of the program itself," Youssef stated at the conference. "We would like to thank MBC Masr for bearing pressures during the 11 episodes, however the program was expected to be closed after the first episode of the third season."
A few weeks before the suspension, however, Ali Gaber the manager of MBC told "Alhokm" program presented by "Wafaa El-Kilany" that he would never suspend the show even if the Egyptian authorities ordered it.
Yousef added that AlBernameg staff now refused to settle for any meaningless, sarcastic show merely for the purpose of continuing the program. "We have our own strategy and we do not accept any interference in it," he affirmed.
"We tried to solve the problem of suspending the program during the vacation we took before the presidential elections, but all our efforts fell into a downward spiral. We received many offers from foreign countries to rebroadcast AlBernameg, but it was broadcasted only from Egypt and isn't acceptable to change this," he added.
"I'm also fed up from my fears on myself and my family from threats. I was accused so many times last year and went to the public prosecutor. Our public opinion's reaction was just as re-tweeting or like the news." Youssef expressed.
Egypt Independent spoke to people on the street to hear peoples' reactions to the suspension of the show. By asking a wide variety of people from different standards of living and culture about their opinions towards suspending Youssef's program, we also received diverse responses.
"Bassem Youssef's glory days were during Mohamed Morsy's era and since he went to MBC I think he was more handcuffed and didn't criticize the regime freely as he did under the Muslim Brotherhood's rule," said Reda Ibrahim, a freelancer lawyer. "Anyways, sooner or later the program would be suspended as the army rule would not accept any further criticism."
A Muslim Brotherhood leader's son, who preferred to remain anonymous, spoke to Egypt Independent, arguing that Youssef was part of a conspiracy against Morsy. "I think Youssef played the certain role he was ordered to do, which was to 'distort' Morsy's image in front of people and turn public opinion against him. Also CBC which is mainly related to all remnants of Mubarak's regime, representing the anti-25 January revolution, and who were manipulating the economy during Mubarak's era, wanted to topple Morsy by any means possible. They gave the program to Youssef without setting any limits, unlike during his season on MBC, where he didn't dare to critcize the regime fiercely like he did before," he said.
Ahmed Hamdy, telesales manager at Vodafone mobile carrier commented on suspending AlBernameg, saying that it's a good decision. He argued that Youssef's program was just for criticizing anything and crossed a red line by insulting the army. He also ruled out the possibility that the newly-elected President Abdel Fatah Al Sisi ordered the closure of the program, expressing that the order is coming from the Saudi Arabian authorities.
"Suspending this kind of sarcastic shows is odious, and violates the freedom of speech. It reminds me of a return back to Mubarak's era before the revolution happened. We are in a new dictatorial era," said Mohamed Sherif an engineering student.
Abd El Rahman El Shamy, activist in the April 6 Movement commented that Youssef's decision to stop airing the program was 100 percent justified, referring to his opportunity to continue the program from DW but he refused. He explained the way that the program based on raising the cultural sense among people, criticizing regime in a comedic and constructive way, while revealing corruption in political life. He faulted Youssef for the contents of his episodes after 30 June revolution, saying it was scarce.
"I didn't know the program was suspended, but when it was broadcasting, I would laugh at it. It was really funny. I would wait to watch it every Friday," said Om Hossam, a 50-year-old woman.
Fadl Mohamed Samy, a delivery man at Roshdy Pharmacy said that he had not hear the news of suspension the program, but he agreed with the decision to suspend the show as he did not like the program and believed it contained inappropriate sexual references, surpassing acceptable limits of decency.
Taxi driver Khaled Youssef, 52, said he heard about the suspension of the program and believes it was ordered by senior authorities. "He is a sarcastic anchor and I have no problem with that. However, people in the media are liars and serve their own interests. He went overboard several times and the Egyptian army is a red line. It's unacceptable to make fun of it. I don't know whether Youssef is independent or just repeating what is on somebody else's mind. I think he must have been unsuccessful in the medicine profession, otherwise he would have never left it and went on to the media field unless he was a failed doctor."
Correction: The article had stated Youssef was arrested under President Mohamed Morsy, however he was only charged and referred to public prosecution.