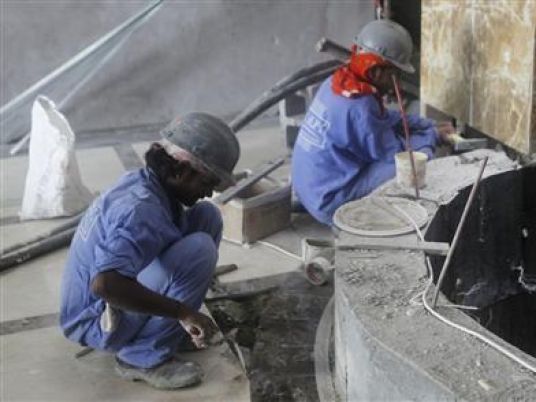 A BBC television team was arrested in Qatar and held for two nights in prison while reporting on living conditions for migrant laborers working on the 2022 World Cup, the broadcaster said on Monday.
The Gulf state had organized a press tour in early May for journalists from Britain, elsewhere in Europe and the Middle East to examine the conditions laborers face, amid global criticism of human rights violations in the Gulf Arab state.
Qatar's state media office said the BBC crew arrived in Doha prior to the planned tour and decided to conduct their own labor site visit, which led to their arrest by security forces. The crew included a reporter, translator, driver and cameraman.
"They trespassed on private property, which is against the law in Qatar just as it is in most countries. Security forces were called and the BBC crew was detained," it said.
The BBC said in a statement it welcomed the team's release, but deplored its detention, adding it was pressing Qatar for a full explanation and the return of confiscated equipment.
"Their presence in Qatar was no secret and they were engaged in a perfectly proper piece of journalism," it said.
Ever since the Gulf state was awarded the 2022 tournament in 2010, it has been mired in controversy.
Qatar's organizers and world soccer governing body FIFA have been fending off allegations of corruption that they deny. The tournament has also had to be moved from the European summer for the first time, to November and December, because of the blazing July heat, potentially disrupting domestic leagues.
Britain's Guardian newspaper reported in September 2013 that dozens of Nepalis working on the project had died during the summer and that they were not given enough food and water.
Qatar denied the Guardian's findings, but FIFA has said Qatar must do more to protect those working on 2022 sites.
"Making progress"
In an article published on a BBC website, reporter Mark Lobel said the crew were forced to spend two nights in a prison before being released. He said no charges were brought.
He said that, during their investigation, security officials showed him photographs of himself and team members after their arrival in Doha. "I was shown pictures of myself and the team standing in the street, at a coffee shop, on board a bus and even lying next to a swimming pool with friends."
Qatar's media office said the BBC crew could have avoided being detained if they had joined the organized press tour which other news organizations took part in.
Qatar in July 2014 approved some improvements to its treatment of migrant workers, including a requirement that firms set up bank accounts for workers, pay wages electronically and a ban on midday outdoor work in the summer heat.
"The government and the private sector are making significant progress in efforts to improve the lives and the labor conditions of guest workers in Qatar," the office said.
Nonetheless, pressure group New FIFA Now and international workers' unions said on Monday FIFA's sponsors must challenge the governing body over the alleged abuses.
Earlier this month, a German television team reporting on World Cup preparations was also arrested and questioned by the authorities who prevented it from leaving for five days. Qatar said the team did not have a permit to film.