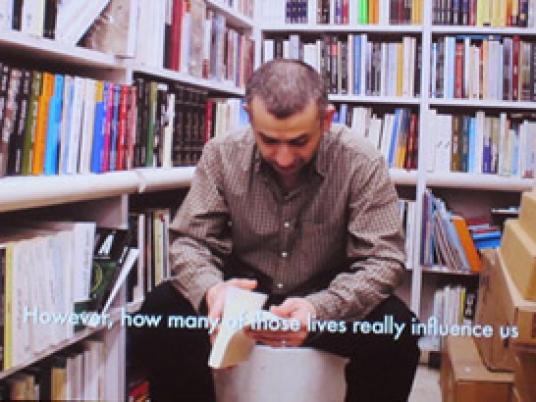 ABU DHABI — The 2012 International Prize for Arabic Fiction, popularly called the "Arabic Booker," was awarded to prolific Lebanese novelist Rabee Jaber on Tuesday night for his novel "Druze of Belgrade."
At a press conference following the ceremony, a reporter asked Jaber for his reaction. Jaber said that, "Actually, I'd hoped to be the winner two years ago with the novel 'America.' But it seems that Hanna Yacoub, the protagonist of 'Druze of Belgrade,' was a happier person."
The winning novelist was visibly uncomfortable in the spotlight. For the most part, he managed to evade reporters' questions. But in a short documentary about the six shortlisted novelists that was played during the ceremony, Jaber described himself as a reader more than a writer, "in spite of writing 17, 18 novels." As he was filmed, he was seated in a personal library crammed with books.
Jaber has written a number of acclaimed novels, including "America," which was shortlisted for the IPAF in 2010, and three books that will be translated into English and published by New Directions: "The Mehlis Report," "Beirut," and this year's IPAF-winning "Druze of Belgrade."
Judging chair Georges Tarabichi said that this year's decision was not an easy one. Fellow judge Maudie Bitar noted, "There was a tough moment when we couldn't agree on a certain one, but three of us stuck to our guns, and we whittled down the shortlist to four, and then to three, and in the end it was very friendly."
Most of the novels addressed themes of identity in some way. This was sometimes approached through contested religious identities, as in Jaber's "Druze of Belgrade" and Jabbour Douaihey's "The Vagrant," or the shifts in identity that come with emigration, as in Habib Selmi's "The Women of al-Bassatin," Nasser Iraq's "The Unemployed" and Ezzedine Choukri Fishere's "Embrace at Brooklyn Bridge."
The winning novel, "The Druze of Belgrade," is set just after the 1860 civil war in Mount Lebanon. It follows the travails of a young Christian man from Beirut — called Hanna Yacoub — who is swept up with a group of Druze fighters, arrested by representatives of the Ottoman Empire and taken to Belgrade.
Several judges noted that what was special about Jaber's book was his old-fashioned ability to tell a story.
Judge Ricardo Fernandez Parrilla said, "I think Rabee Jaber is a great narrator, a great storyteller. He is able to get a reader, from the very beginning, into his stories, no matter what he writes about. He is one of the greatest narrators on the Arabic scene."
The committee also seemed to appreciate Jaber's convincing historical detail. Bitar said that "what we found different and special about Mr. Jaber's novel is his insight into the geography and history of Lebanon … his way of describing the environment of that time."
Bitar and Parrilla both seemed pleased that the shy, prolific Jaber had won the prize.
"I like Rabee Jaber," Bitar said. "With this one, it's the second time lucky."
But she added that the committee did not take his previous novels into consideration.
"The history of the writer had nothing to do with our decision, with our discussion, at all. We had to deal with the book that was in our hands. We didn't think of doing justice to his previous" work, she said.