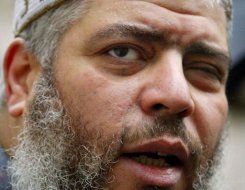 Radical Islamist preacher Abu Hamza and four other terror suspects were on their way from Britain to the United States on Saturday after a court rejected their last-ditch court bid to block their extradition.
A legal saga that has dragged on for more than a decade in the courts of Britain and Europe finally ended when the Egyptian-born former imam was whisked from prison and flown out of a military airbase.
Two senior judges at the High Court dismissed the men's pleas to be allowed a stay of extradition and within hours, the suspects were airborne.
Abu Hamza and fellow suspects Khaled al-Fawwaz, Sayed Tahla Ahsan, Adel Abdel Bary and Babar Ahmad left from the Mildenhall Air Force Base, which is used by the US military.
The two jets provided by the US authorities took off shortly before midnight Friday, Scotland Yard said.
Abu Hamza has been indicted in the United States on charges including setting up an Al-Qaeda-style training camp for militants in the state of Oregon and involvement in the taking of 16 hostages in Yemen in 1998.
"I am pleased the decision of the court meant that these men, who used every available opportunity to frustrate and delay the extradition process over many years, could finally be removed," said Home Secretary Theresa May.
"This government has co-operated fully with the courts and pressed at every stage to ensure this happened.
"We have worked tirelessly, alongside the US authorities, the police and the prison service, to put plans in place so that tonight these men could be handed over within hours of the court's decision.
"It is right that these men, who are all accused of very serious offences, will finally face justice," May said in a statement.
Just hours before a police convoy took them from the Long Lartin Jail to Mildenhall, the High Court rejected the men's last-ditch legal bid to block their deportation.
"The applications by all five claimants must be dismissed. It follows that their extradition to the United States of America may proceed immediately," said judge John Thomas.
Abu Hamza, the 54-year-old Egyptian-born former imam who has a hook for his right hand, failed to convince the judges that his extradition should be blocked in order for medical tests to be carried out for his depression.
The judges said they were "wholly unpersuaded" he was unfit to face trial, and added that "the sooner he is put on trial the better" and dismissed arguments that the US jail they are heading to would breach their human rights.
The European Court of Human Rights (ECHR) ruled in September that all five men could be extradited, but the High Court ordered the government to halt their removal while it heard their final appeals.
The US Embassy in London said it was "pleased with the decision."
Abu Hamza rose to prominence in the 1990s when he gave fiery sermons at the Finsbury Park mosque in north London, but has been in prison in Britain for eight years after being convicted of inciting hatred.
Babar Ahmad, 38, has been in prison without trial since 2004 and Ahsan, 32, since 2006. Fawwaz, a 50-year-old Saudi, and Bary, a 52-year-old Egyptian national, have both been behind bars since 1999.
Lawyers for Abu Hamza argued that he should not be extradited because he needs a brain scan.
They told the court he suffers from depression exacerbated by his "demonization" by the media, sleep deprivation and memory loss which make him unfit to plead, as well as infections in his arm stumps.
The Sun had the headline "See ya hater," as "ranting Hamza is finally booted out of Britain."
"The bleak 'supermax' jail the US has in store is far harsher than anything Britain can dish up. It couldn't happen to a nicer guy. So long, Hooky. Send us a postcard," it said.
Ahmad and Ahsan, both British nationals who are described as computer experts, are accused of operating websites supporting Chechen and Afghan insurgents.
Ahmad said in a statement read out by his family outside court that he had won a "moral victory" and was "leaving with my head held high."
Fawwaz and Bary were both indicted by the US for alleged involvement in the bombing of two US embassies in east Africa in 1998 which killed hundreds. They also allegedly ran Al-Qaeda's media office in London in the 1990s.