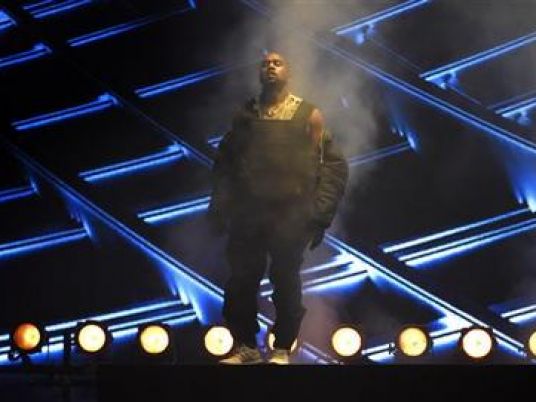 Kanye West delivered an uncompromising headline performance at Glastonbury Festival on Saturday that ignited when the US rapper left the Pyramid Stage to take to the sky for hits "Touch The Sky" and "All of the Lights".
West was the polarizing figure of Europe's biggest green-field festival, and the announcement of his appearance prompted thousands to sign a petition against the choice of a rap act for the top billing.
The multi-talented West, who is married to reality TV star Kim Kardashian, proved the doubters wrong by attracting a large audience who knew the words to many of his tracks.
He opened his set with "Stronger", performed under a low lighting rig that compounded the intensity of his rapping.
Later "Touch the Sky" was abandoned a few bars in, only to restart with West high above the stage in a breathtaking moment of theater.
West, whose ego is as well known as his songs, did not launch into any monologues, a feature of some performances, but he did proclaim: "You are now watching the greatest living rock star on the planet".
Kieran Brooks, 21, agreed, saying the performance was "absolutely incredible", although he added that West pitched the show at existing fans.
Pharrell Williams earlier in the evening had a huge crowd dancing and jumping to hits "Blurred Lines" and "Get Lucky".
A group of young children joined the US singer and producer on stage for "Happy", his huge seller of last year. "Make some noise for the English future on stage," he said.
British singer-songwriter George Ezra and Burt Bacharach, a pop legend almost four times his age, delighted afternoon audiences at the dairy farm in southwest England.
Ezra's sun-drenched set included hits "Budapest", which he premiered on a smaller set at the festival two years ago, "Blame It On Me", and a cover of Macy Gray's "I Try".
"His voice melts my heart," 24-year-old fan Holly Harvey said after his performance on the Pyramid Stage. The 22-year-old may hail from the English county town of Hertford but his bass-baritone comes from somewhere in the Deep South.
Bacharach initially left the vocals to his singers for a medley of songs that sound-tracked the sixties and seventies, from "I Say a Little Prayer" to "Trains and Boats and Planes" and "I'll Never Fall in Love Again".
The 87-year-old songwriter took to the mic later in his set, before leading the crowd in a mass singalong of "Raindrops Keep Fallin' on my Head" as, right on cue, light drizzle started.
The rain interrupted a day of sunshine. The warm weather dried up most of the mud on the site caused by heavy downpours – a perennial feature of the event – on Friday.