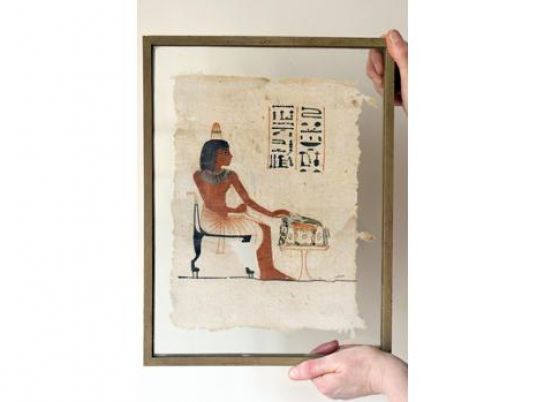 A rare 3,400-year-old Egyptian burial shroud fetched 374,000 euros ($426,000) at auction in Paris Thursday, on the latest leg of a journey that has seen it passed from a billionaire banking heir to his wife and, later, his mistress.
The sale at Piasa auction house was unusual as most similar shrouds — roughly 20 are known to exist in the world — are in the collections of museums like the Louvre and the Metropolitan Museum of Art in New York City.
The winning bid was made by telephone and the identity of the buyer was not disclosed.
The small vividly painted square of fabric belonged to a scion of the Goldman Sachs banking dynasty and later his lover, French author and publisher Jeanne Loviton.
Organizers had said they were not sure how much the 29-by-21 centimeter (11-by-8 inch) shroud, which would have been placed on the deceased's sarcophagus, would fetch.
Piasa's director Henri-Pierre Teissedre stumbled across the shroud while doing an inventory of a home belonging to Loviton, who died in 1996.
The cloth is stamped with the name of a man called "Ta-nedjem," who died some 3,400 years ago.
It is made from the same type of cloth used to produce the bandages that wrap mummies and shows "Ta-nedjem" sitting on a black chair with a curved back and animal legs.
Given the richness of his clothing, ornaments and furniture, experts believe the man — who was previously unknown to researchers — was a person of status.
Loviton herself was a woman of status in France. She was a novelist, lawyer and publisher of the work of Louis-Ferdinand Celine, best known for his novel "Journey to the End of the Night" ("Voyage Au Bout De La Nuit").
She also was the mistress of billionaire banker Arthur Sachs of the Goldman Sachs family.
He initially bought the shroud in 1927 as a gift for his wife. She kept it in their bathroom but eventually returned it to her husband, who in turn presented it to his mistress, Loviton.
Loviton kept it at her home for the rest of her days.
The chain of ownership prior to Sachs includes an antique dealer named Lucien Lepine, who bought the cloth in Egypt and later sold it to a dealer in Paris.
But how the ancient work of art came to be on the market in the first place is a mystery lost to the passage of time.
Experts believe there is little doubt as to the shroud's authenticity.
"This would have to be the work of an extremely talented forger and great Egyptologist, who would have had to use special pigments. That seems impossible," Annie Gasse, an expert with France's National Center for Scientific Research, said.
Gasse is working on a book about the shroud, which is considered a significant discovery because it challenges previous findings about how many of the burial cloths are thought to exist.