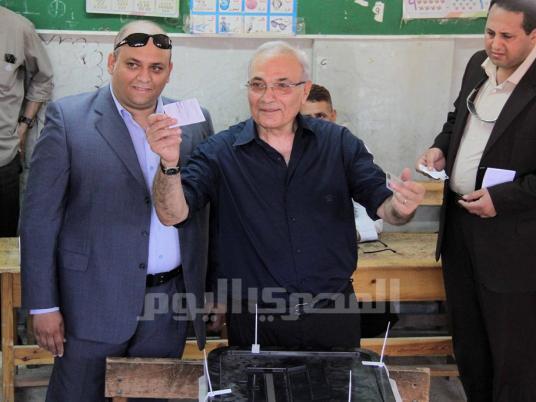 Former Presidential Candidate and former Prime Minister Ahmed Shafiq called on the Egyptian government to carry out a popular referendum on the controversial maritime demarcation agreement that transferred the Egyptian sovereignty over Red Sea islands from Egypt to Saudi Arabia.
During a phone interview with the privately – run TV channel Dream, Shafiq said that the maritime demarcation deal signed between Egypt and Saudi Arabia in 2016 should be subjected to a referendum to voice Egyptians' opinion.
"No one has the authority to take any action with an Egyptian territory without a popular referendum. The constitutional court's decision on the Red Sea islands will end this controversial case," Shafiq said.
Shafiq expressed harsh criticism to the current government as it had simultaneously sent the Red Sea islands' agreement to the Higher Constitutional Court and to the Parliament, adding that the latter does not have the authority to discuss such matter.
Shafiq's statements on the Red Sea islands came as a response to the Parliament's controversial decision to discuss the agreement starting Sunday to adopt a definite stance.
The government's representatives provided documents to members of the Parliament that prove the Saudi sovereignty over the two Red Sea islands. However, some MPS expressed refusal to the state's documents and asserted that the islands are Egyptian.
Meanwhile, the Parliament's Legislative and Constitutional Committee approved on Tuesday the Red Sea Island deal and accredited the Saudi sovereignty over the two islands.
A day later, the Parliament's Defense Committee followed into the footsteps of the Legislative and Constitutional Committee, making the same decision.
In response to the aforementioned committees' approval, number of lawyers and journalists along with other prominent political figures including leftist Hamdyeen Sabahi decided to stage a sit-in inside the headquarters of the Press Syndicate.
Security forces imposed tight security measures around the syndicate and dispersed the protesters.
Ahmed Shafiq, who is currently resident in UAE, was a former candidate for Egypt's 2012 presidential elections. He was a senior commander in the Egyptian Air Force and later served as Prime Minister of Egypt from January 29, 2011 to  March 3, 2011.
After the breakout of the 25 January Revolution, he was appointed as prime minister by ousted President Hosni Mubarak on January 29, 2011.