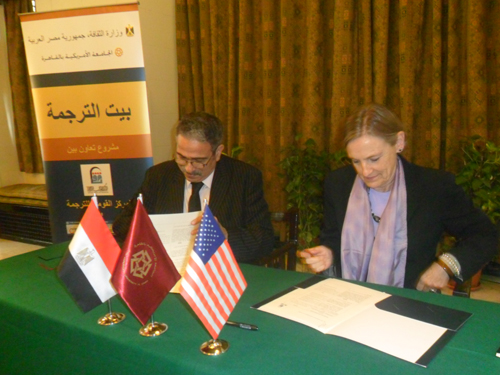 At the hall of the Egyptian Museum overlooking Tahrir Square, the artifacts representing three languages and three religions are gathered to show how Egyptians of different faiths and different times chose to worship God.
Beside a carving representing the Jewish menorah, a colorful painting of the Christ on the cross is placed.
Other works of Islamic art displayed in the hall tend towards abstraction, depicting varied styles of Arabic calligraphy, as well as decorative arts.
The exhibition, called "One God and three religions: Religious tolerance on the Nile" also includes a number pieces related to Prophet Ibrahim, known as the father of prophets, to whom the three Abrahamic religions are attributed.
Most of all, the displayed pieces represent the principle of coexistence among Egyptians of different faiths.
The exhibition, inaugurated by Antiquities Minister Mamdouh al-Damaty on Thursday evening, includes 48 artifacts and has been organized to coincide with the International Day of Museums on May 18.
The International Day of Museums has been celebrated in Egypt in recent years by exhibitions recounting the country's history and culture, such as the one dedicated to the writer Ne'mat Ahmed Fouad and former Culture Minister Tharwat Okasha.
The Director of the Egyptian Museum in Berlin Frederica Seyfried, as well as two representatives of Al-Azhar and Pope Twadharos II, together with the head of the Jewish community in Egypt Magda Haroun attended the inauguration ceremony.
The artifacts, which will be displayed until July 14, have been selected from the Egyptian Museum, the Museum of Islamic Art, the Coptic Museum, the National Museum of Alexandria and the Greco-Roman Museum in Alexandria.
Edited translation from Reuters