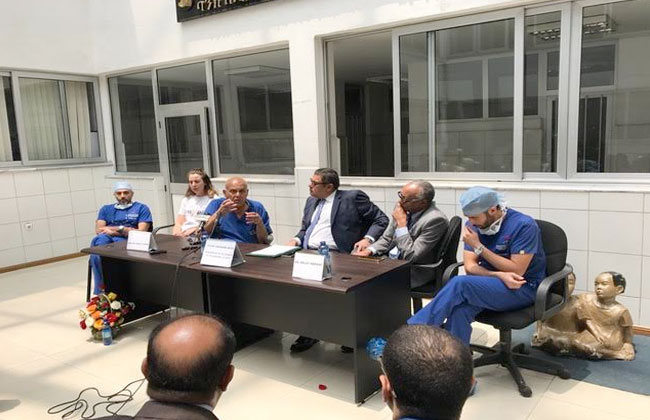 As part of cooperation between the Egyptian Agency for partnership, affiliated with the Egyptian and British Foreign Ministries – Egyptian surgeon Magdi Yacoub is in Ethiopia to perform heart operations on a of number of Ethiopian citizens.
According to the state-run newspaper 'Al-Ahram,' Yacoub will preside over a medical delegation of 28 doctors, who will help perform surgeries for Ethiopian people who are unable to afford operation costs.
The visit kicked off on July 20 and will continue for five days. The surgeries are conducted in cooperation with the Ethiopian Heart Center, this trip is Yacoub's fourth visit to Ethiopia for this kind of medical aid.
His first volunteer aid visit to the country was in 2014, under the supervision of the Egyptian Foreign Affairs Ministry and the Ethiopian Heart Center.
Egyptian Ambassador Abu Bakr Hanfi held a press conference in Ethiopia on the sidelines of the visit, with Yacoub in attendance, where the ambassador reviewed the efforts exerted by the Egyptian government to support Ethiopia in different fields.
According to Hanfi, Egypt contributed to the establishment of the Dialysis Center at the San Baul hospital, which is considered the largest educational hospital in Ethiopia, in addition to installing the Egyptian department at the Ethiopian Heart Center in 2016.
Recently, bilateral relations between Egypt and Ethiopia have witnessed some tension since 2011, due to construction of the the Grand Renaissance Dam over the Blue Nile River, one of the major water sources of the River Nile. The dam is expected to be ready in 2017.
Ethiopians see the construction project as a great national project and a step towards stemming poverty. Egypt, however, fears the dam will affect its historic Nile water share of 55 billion square meters, which it has had access to since the historic 1959 agreement with Sudan.
Ethiopia has reassured Cairo that its water share will not be affected.